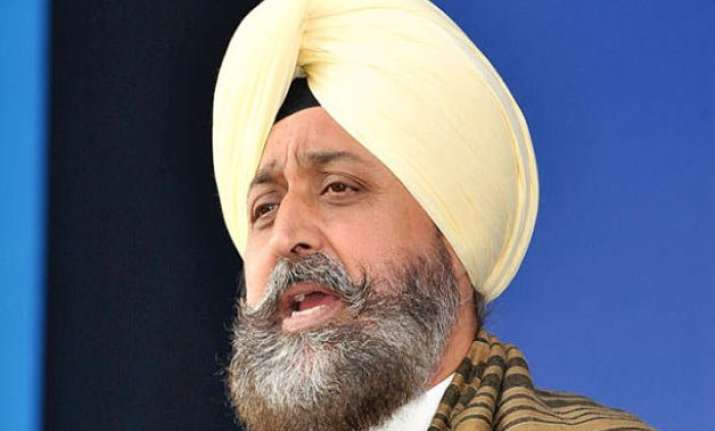 New Delhi:  Top Punjab Congress leaders today met President Pranab Mukherjee and sought immediate dismissal of the Akali Dal-BJP government in the state and imposition of Central rule over alleged deterioration of law and order.
The delegation led by AICC general secretary and incharge of Punjab affairs Shakeel Ahmed along with Punjab Congress chief Pratap Singh Bajwa and included former Union Ministers Ambika Soni and Ashwani Kumar. They handed over a memorandum to the President.
Former Punjab chief minister and deputy leader of Congress in Lok Sabha Amarinder Singh and some legislators of his camp were conspicuous by their absence.
"The people in the state are reeling under 'Goonda Raaj' of the government and anyone who raises voice is suppressed with strong arm tactics of the police which is acting as a private 'militia' of the government," Bajwa told reporters after meeting the President.
"We have requested the President to seek a report from the Centre about the state of affairs in Punjab and impose President's rule under Article 356," he added.
In a memorandum submitted, they alleged the state under Chief Minister Parkash Singh Badal and his Deputy Chief Minister son Sukhbir Singh Badal have turned Punjab into "darkness of gloom and despair".
"There is no rule of law and the administration of justice has been completely eroded and subverted to suit their business and commercial interests.
"The bureaucracy and the police are colluding with the ruling Government and acting as managers to facilitate and promote the businesses of the Badal/Majithia/Kairon families," the memorandum further stated. Bajwa alleged that the state is staring at an agrarian crisis, with the situation coming to a point where the farmers, once feeding the entire country, are worried which variety of paddy to grow so that the produce would be lifted by the Centre.
In Malwa region alone, 670 farmers have committed suicide because of the alleged apathy of the government towards the agriculture sector, he said.
Referring to the drug menace, the party pointed out in the memorandum that 70 per cent of the population in the state was hooked to narcotics.
The Congress leaders also pointed out that numerous inquiries and investigation were pending regarding the allegations of the involvement of Majithia in the drug racket.
Party MP Ravneet Singh Bittu, AICC Secretaries Harish Chaudhary and Kuljit Singh Nagra, besides former deputy chief minister Rajinder Kaur Bhattal and former state unit chiefs H S Hanspal and Shamsher Singh Dullo and other leaders were also present in the meeting.