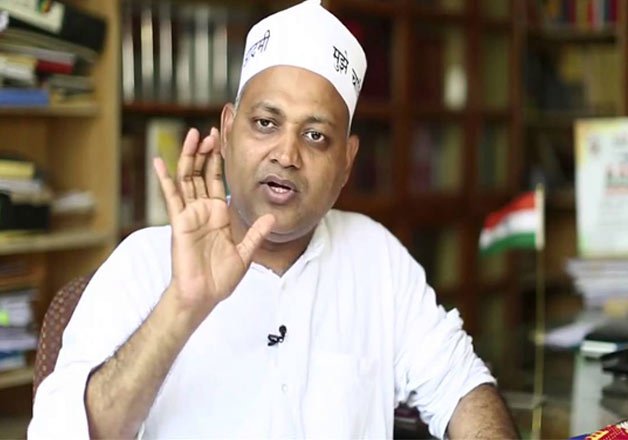 New Delhi: AAP MLA Somnath Bharti today moved the Delhi High Court seeking protection from arrest in connection with a domestic violence and attempt to murder case filed by his wife.
A bench of Justices B D Ahmed and Sanjeev Sachdeva agreed to hear Bharti's plea after his counsel, senior advocate Dayan Krishnan, informed the court that the matter is urgent and there is every chance of his arrest.
Krishnan, assisted by advocate Vijay Aggarwal, also told the court that immediately after rejection of his anticipatory bail, a non-bailable warrant was issued against the former Delhi Law Minister.
The counsel further submitted that the Delhi Police Commissioner has also said that he (Bharti) could be arrested. The judges then listed the matter before an appropriate bench today itself.
Bharti's counsel mentioned his plea before the high court after a trial court yesterday dismissed his petition seeking anticipatory bail and another court issued an NBW against him.
Bharti's plea for anticipatory bail was rejected by Additional Sessions Judge (ASJ) Sanjay Garg observing that it was the second complaint lodged against the MLA by his wife Lipika Mitra, who has alleged that he did not mend his conduct despite assurance before Crime Against Women Cell of the police.
Later in the day, a Metropolitan Magistrate had issued the non-bailable warrant against him after Delhi Police had moved an application contending that Bharti was not cooperating in the probe and had failed to appear for interrogation despite three summons issued to him.
The ASJ, while rejecting anticipatory bail to Bharti, had accepted submissions of the Special Public Prosecutor that allegations against the lawmaker were serious and there was a possibility of his tampering with evidence.
The court had also rejected the MLA's contention that attempt to murder charge was not made out, while referring to an allegation in the FIR that Bharti tried to strangulate his wife and unleashed his dog on her knowing that she was seven months pregnant.
Bharti's wife, who was also present in the court room, had said, "My small kids are suffering. I was left to die in front of them. I love my husband that is why I suffered the abuse for five years," while refusing the offer of the court for mediation. Lipika had filed a complaint of domestic violence with Delhi Commission for Women on June 10 alleging that her husband had been abusing her since their marriage in 2010.
Shehad also given a complaint to the police in this regard. Delhi Police had last week registered an FIR against Bharti under sections 307 (attempt to murder), 498A (cruelty towards partner in marriage), 324 (voluntarily causing hurt by dangerous weapon), 406 (criminal breach of trust), 313 read with 511 (attempt to cause miscarriage without woman's consent), 420 (cheating) and 506 (criminal intimidation) of IPC.
Bharti, through his counsel, had sought anticipatory bail yesterday, saying he was a sitting MLA and there was no chance of his fleeing from justice. He had told the court that he still wanted to support his wife and children and was ready for mediation.
Opposing the application, the prosecutor had said he was an influential person and was free because of which nobody is coming forward to depose against him.