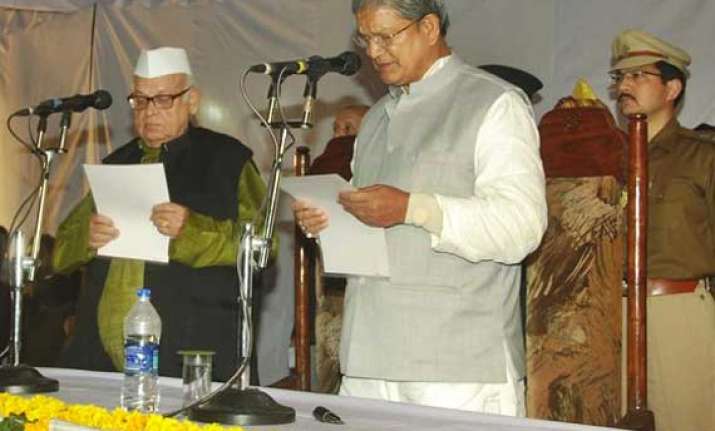 Dehradun: Harish Rawat was sworn in as the new Chief Minister of Uttarakhand on Saturday, succeeding Vijay Bahuguna who was asked by the Congress high command to step down in a bid to boost its prospects ahead of the April-May Lok Sabha polls.
65-year-old Rawat's name was approved by Congress president Sonia Gandhi who was authorised to name the Congress Legislature Party(CLP) leader after a one-line resolution was passed at its meeting here, senior party leader Janardhan Dwivedi told reporters here. Rawat is at present Union Cabinet Minister for Water Resources.
In the 70-member assembly, Congress has 33 members and has the support of seven-member PDF including three BSP, one UKD and three Independent MLAs. BJP has 30 MLAs.
The PDF, which has four ministers in the outgoing Bahuguna ministry, has pressed for additional ministerial berths in the new government.
"Soniaji gave her approval for Rawat's name. He has been elected CLP leader and will be sworn in Chief Minister along with some Cabinet ministers later today," Dwivedi said to loud cheers from supporters of Rawat after the five-hour-long CLP meeting.