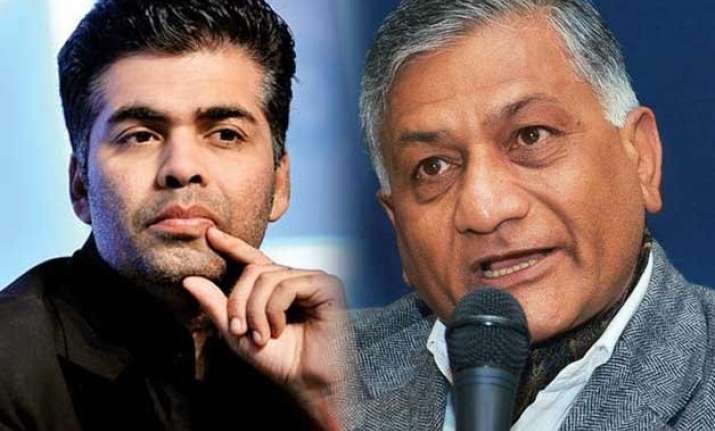 New Delhi: Union Minister VK Singh on Friday stoked another controversy with his remark on comments made by film producer Karan Johar at the Jaipur Literature Festival.
"Go and beat him up, why are you getting after me (Ja ke uski pitayi kar lo yaar, tum mere peechhe kyun padh rahe ho)," he told reporters in Jodhpur.
Asking reporters not to bother him with such questions, the Union Minister said, "Why are we discussing Karan Johar, go talk to him. Ask me something important. I am here to meet party workers to encourage them."
The former Army chief was asked to react on Karan's remark that 'India is a tough country to express one's views with a legal sword always hanging over the neck'.
"What do I say... Revealing in today's time can land you in jail. We are in a tough country to speak about your personal life and I feel really sad about it because being a public figure you are expected to helm a certain movement, talk about freedom of expression, which is the biggest joke in the world. Democracy is the second biggest joke I think," the film producer had said.
With this remark, Karan joined the bandwagon of celebrities slamming the growing intolerance in the country. Recently Shah Rukh Khan and Aamir Khan found themselves in a controversy for speaking up against the 'growing intolerance' in the country.
Earlier in the day, Union Ministers Mukhtar Abbas Naqvi too attacked Karan saying, "Those who are raising questions on India's tolerance have no knowledge about the country's culture and traditions. They are illiterate. It is true that issues of intolerance crop up the moment elections are announced."
This is not the first time the VK Singh has landed right in the middle of a controversy. Before this he had invited criticism for drawing analogy between killing of Dalit kids in Faridabad and stoning of a dog.