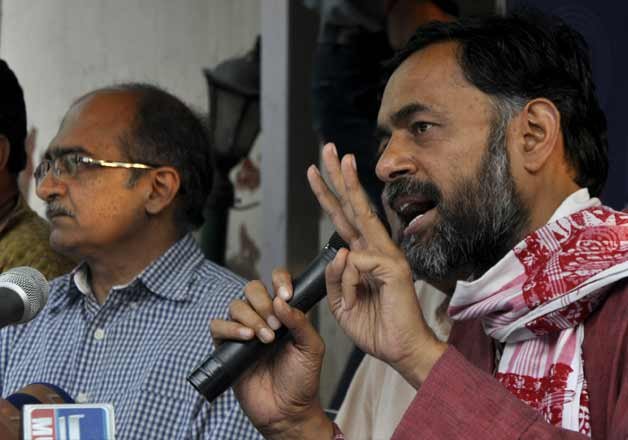 Bengaluru: Calling for a break from the politics of personality, power, and old ideologies, former Aam Aadmi Party (AAP) leader Yogendra Yadav has launched a movement called 'Swaraj Abhiyan'.
Yadav, who on Thursday addressed a convention of 'Swaraj Abhiyan' in Bengaluru, said that the 'Abhiyan' must not be individual centric instead should be open to public scrutiny under laws like the RTI.
Yadav said that the aim is to carry forward the spirit of the AAP movement because people now feel that the party has lost its essence after thumping victory in the Delhi assembly polls.
The leader also called for creating a new political agenda for the country because 20th century ideologies are not appropriate for the 21st century.
"This country is full of extraordinary people who have zero interest in politics of power but are concerned about India. It is not the end of a tragic journey but the beginning of a long, difficult, productive, and creative journey," Yadav said.
The famous political pandit further said that movement should be open to criticism within the confines of its structure.
"The aim should not be to be an MLA or an MP but to redefine politics," he said.
Former AAP leader Yadav and Prashant Bhushan have launched this movement in a bid to connect with AAP volunteers and masses outside Delhi through dialogues. The duo has planned to reach out to the masses at 20 destinations in 13 states within a month.
Yadav also called for encouraging all different streams of thinking and theory and listen to them.
"So far we have not listened to each other because we all speak in a vocabulary that goes past each other," he said.
He said that there should be no images of leaders on 'Swaraj Abhiyan' flags and emblems and all powers must not vest with one person.
"Even Jayalalithaa does not have her own pictures on party emblems," he said.
Yadav, who had on Tuesday, shared a stage with CPI (M) leader Sitaram Yechury at a farmers rally in Bangalore, said that he was dedicating the rest of his life to alternative politics.
On Delhi Law Minister Jitender Singh Tomar's educational qualifications, he claimed that he had written two months ago to the AAP bigwigs apprising them about the same but the party ignored it.
"We raised the issue months ago in a letter that the degrees may be fake. The party was aware but the law minister was above the law," Yadav said.