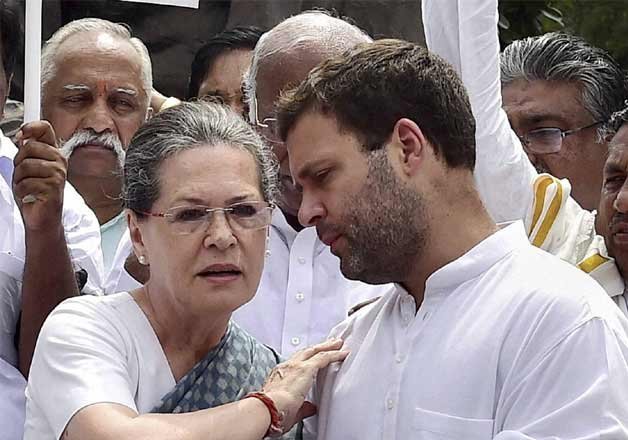 New Delhi: The Congress today demanded that the alleged derogatory remarks made against its president, Sonia Gandhi, and vice president, Rahul Gandhi, by BJP member Anurag Thakur be expunged from the Lok Sabha proceedings.
"Some derogatory remarks were made against Sonia Gandhi and Rahul Gandhi by a member of the house terming them anti-national. How can a member of this house be anti-national," Mallikarjun Kharge, the leader of the Congress in the Lok Sabha asked after question hour ended.
"The remarks made against Congress leaders were derogatory and should have been expunged like the speaker expunged the references made in speech by Jyotiraditya Scindhia to the RSS, (Delhi BJP legislator) O.P. Sharma and Nathuram Godse," he added.
The Lok Sabha secretariat on Thursday released a list of words expunged from the discussion over the JNU row and the issue of the suicide of a Dalit scholar in Hyderabad University. 
Objecting to the Congress demand, Minister of State for Parliamentary Affairs Rajiv Pratap Rudy said it's the discretion of the speaker to decide which reference should be expunged.
Meanwhile, the speaker allowed BJP member Anurag Thakur to speak over the issue but he sought to clarify the Congress' stand over Ishrat Jehan case and parliament attack convict Afzal Guru.
"In Ishrat Jehan case, the affidavit submitted to the Gujarat High Court in 2009 about her links with LeT and her accomplices was changed at the political level. A deliberate attempt was made to malign the then Chief Minister of Gujarat, Narendra Modi," Thakur said referring to recent remarks by former union home secretary G. K. Pillai.
"A conspiracy was hatched by the then ruling party to frame opposition leaders. Country wants to know who changed the affidavit at the political level," he asked.
The Congress members opposed the allegations and sought permission from the chair to speak over the issue but were denied by Speaker Sumitra Mahajan. She immediately asked BJD leader Bhartruhari Mahtab to begin his speech over motion of thanks on president's address.