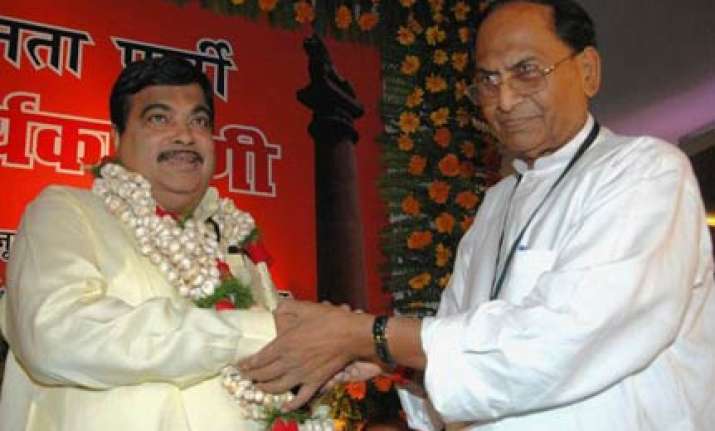 Patna, Oct 8 :Bihar BJP chief C P Thakur and member of party core group Ashwini Kumar Choubey today resigned from their posts, apparently annoyed at the leadership for giving Digha seat to ally JD(U), leading to a crisis in the party ahead of state assembly polls beginning from October 21. Frantic efforts were being made to mollify Thakur with several leaders, including JD(U) President Sharad Yadav, persuading him to change his decision.  
"I have resigned from the post of the state BJP president. I have sent my resignation to party president
Nitin Gadkari
this morning," Thakur said.
Party sources said Thakur decided to resign as he was unhappy with the decision to allot the Digha assembly seat in Patna to JD(U) under the seat-sharing arrangements. He had wanted to his son Vivek to be fielded by BJP from that seat, the sources said. Earlier in the day, Thakur said "what's the point in continuing as state president when I even failed to secure a party nomination for my son?"
Later, however, he claimed that his resignation was not because he failed to secure nomination for his son but because his position was "under attack". "My position was under attack. I have been constantly ignored in the ticket distribution process," he claimed.  
"No consultation took place on distribution of tickets at several places at Begusarai and a few other constituencies ... I have urged the central leadership to look into it," he said.  
There was a core group constituted by the party to handle election-related issues, "but it appears to me one man is behind every decision," Thakur said without naming Deputy Chief Minister S K Modi.  
Soon after meeting Thakur at his residence, state Public Health Engineering Department Minister Choubey said he too had tendered his resignation from the party's core group membership. "There is no no point in continuing as member of the 6-member core committee when its members are not being consulted while taking any decision on the matters relating to distribution of the tickets," Choubey said.  
"We have raised certain objections about conceding the seats of Digha, Aurai and Kuchaikot to the JD(U) during the core committee meeting... but the symbols have been secretly allotted to the candidates of choice of somebody," he said. JD(U) national president Yadav drove straight from the airport on his arrival from campaign trail to Thakur's residence to mollify the sulking leader, party sources said.  
When contacted, BJP leader and Deputy Chief Minister S K Modi said he was not aware of Thakur's resignation.  "I have no knowledge that Thakur is angry and for what," Modi told reporters.  "But one thing I admit at this stage -- there has been discontent among party workers over the Digha seat, for which we have staked claim," he said.  
"As the seat has now gone to the JD(U) share, we will try to assuage the feelings of our partymen," he said, adding BJP had yielded the seat under "compulsion" of alliance politics. Modi, however, said the bond between BJP and JD(U) was "very, very strong" and "We will continue to jointly campaign for candidates for securing a second term."  
 Thakur also said, "my sentiments have suffered a jolt... I don't command respect in the party." He, however, said he would continue to serve the party and work for bolstering its poll prospects. Asked whether he would campaign for BJP, Thakur replied "not at this stage."  
When contacted, BJP spokesperson Syed Shahnawaz Hussain said, "I want to clarify that there have been several seats which JD(U) conceded for BJP during seat-sharing talks and there have been several other seats on which the party has to compromise in conformity with demands of electoral alliance. "We will try to persuade Thakur to take back his papers," Hussain, also member of BJP parliamentary board, said. PTI