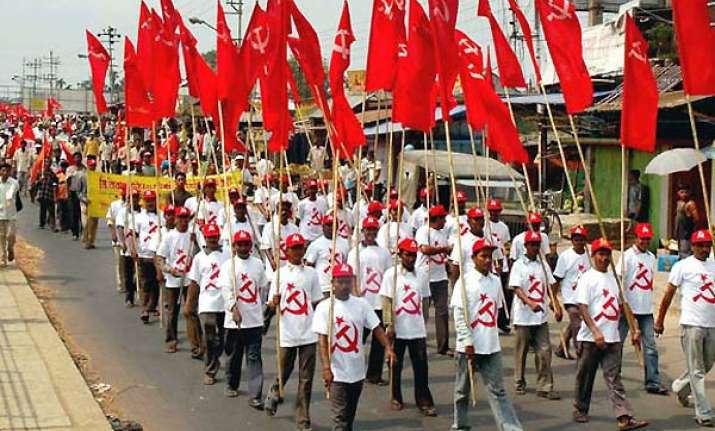 Kolkata, Apr 5 :  With Mamata Banerjee's 'padayatras' drawing thousands, the ruling CPI-M not to be outdone has also planned a similar roadshow on coming Saturday by Chief Minister Buddhadeb Bhattacharjee in his Jadavpur constituency in the city's southern part.

"Buddhadeb Bhattacharjee will participate in a roadshow from the Jadavpur police station to Sonarpur covering a distance of seven kms," CPI(M) state secretariat member Robin Deb told PTI.

Deb insisted there was no question of the chief minister taking a leaf out of Trinamool Congress chief Mamata Banerjee's book.

"On the contrary, it is Mamata who is following in the footsteps of CPI-M which had in the past organised huge processions on issues of public importance in the city and elsewhere, in some of which Buddhada himself took a leading part," Deb, who is looking after CPI-M's campaign in the Jadavpur constituency, said.
Last Sunday, Banerjee along with former state chief secretary Manish Gupta, who is the candidate of her party in the Jadavpur constituency against Bhattacharjee, at her side organised a mammoth padayatra covering several constituencies.
She walked the 12-km route from Gariahat to Garia in one of the most successful road shows organised by the Trinamool Congress.

In her earlier padayatras too, people participated overwhelmingly to catch a glimpse of the leader who is widely perceived to be the next chief minister of the state.

Mamata has already held five such road shows in the city and its outskirts in the last two weeks including the Jadavpur constituency.

Last evening, Banerjee held a well-attended padayatra in the Muslim-dominated areas of the city from Ekbalpur to Metiabruz.

In a show of solidarity, a senior West Bengal Congress leader and state INTUCA chief Pradip Bhattacherje participated in Mamata's padayatra yesterday.

Earlier she held padayatras from Joka to Behala, Rajabazar to CIT road and Tallah Park to Phoolbagan covering most of the 11 constituencies in the city.

In contrast, the chief minister, Left Front's star campaigner, largely confined himself to his constituency addressing 14 meetings since March 13 when the LF candidates list was released.

Jadavpur constituency has been a traditional red bastion since 1977 with the CPI(M) winning from there in successive elections.

However, the CPI(M)'s iron grip over the seat loosened since the 2009 Lok Sabha election when Kabir Suman of Trinamool Congress won from the Jadavpur parliamentary constituency.

Deb said the chief minister would walk through part of the route and follow the processionists in an open jeep later.

Banerjee had a meeting with Union Finance Minister Pranab Mukherjee on Sunday for a joint campaign.

"The state government has fixed examination schedules in such a way that we cannot use microphones. We are seeking permission from the Election Commission so that microphones can be used from April 9," she had said.

The Election Commission has imposed restrictions on the use of loudspeakers for campaigning due to the on-going examinations till April 13.

The first phase of the six phase of elections would be held on April 18. A total of 294 seats are up for grabs in the April-May Assembly elections in West Bengal. PTI