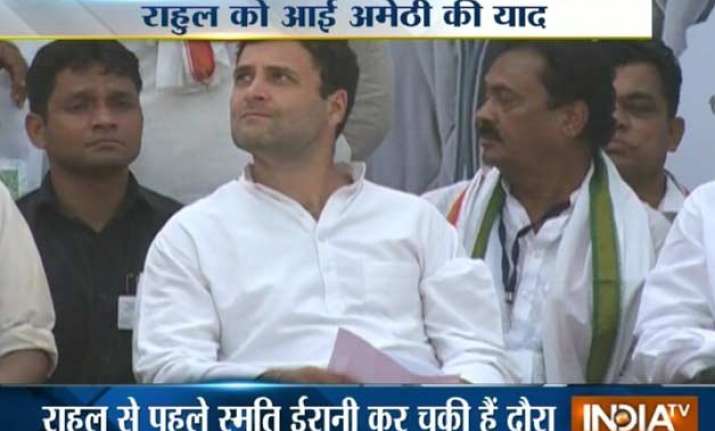 Amethi: Congress vice-president Rahul Gandhi will today begin three-day visit to his parliamentary constituency Amethi.
Rahul's visit, the first since his 56-day sabbatical that ended last month, is expected to be a stormy.
During his stay here, Rahul will inaugurate a number of projects completed from his MP fund including marriage houses, solar water pumps and some roads.
He is likely to raise aggressively the NDA government's decision to annul the Mega Food Park project in Amethi.
On the first day of his tour, he will go to villages and meet dependents of the farmers, who lost their lives after suffering damage to their crops in recent untimely rains and hailstorms. At 12 noon, he will visit Jagdishpur, the same place where food project was to come up. At 2:30pm, the Congress leader will hold 'kisan panchayat' in Jagdishpur and Shankarganj. At 4pm, he will take part in a condolence meet at Musafirkhana. At 5pm, he will return to Munshiganj guest house.
He will also meet Congress committee members and district and block level leaders of the party in evening.
On Day 2, Rahul will inaugurate projects in Sangrampur, completed through his MP local area development funds. Tomorrow, he will address a public meeting in Kasara village.
On the final day, the Amethi MP will chair a vigilance committee meeting of development works being conducted in Amethi.
Rahul's tour come days after HRD Minister Smriti Irani visited the constituency. She had unsuccessfully contested Lok Sabha elections last year from here.