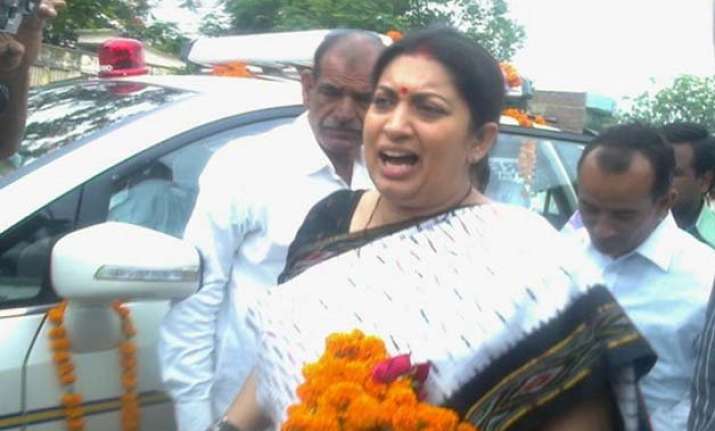 Amethi: Union HRD Minister Smriti Irani today visited Congress vice-president, Rahul Gandhi's bastion Amethi to offer solace to farmers whose crops have been destroyed by unseasonal rain.
Without taking name of Rahul, she said that the lawmaker who represents Amethi in the Lok Sabha has been missing.
"MP of Amethi is missing, if he follows my footsteps the people of Amethi might get to see him," she said.
The 39-year-old Union Minister announced that she will insure 5000 farmers.
"Three generations of Congress made promises & sold dreams to people of Amethi but only Modi government can fulfil these promises," she said.
BJP district unit president Durgesh Tripathi said Irani will hold kisan panchayat throughout the day here and will listen to the woes of the farmers.
Irani, who arrived here in the morning, stopped at a local tea shop and enquired about their grievances.
"I had promised to Amethi that I will be with them all the way. I will come back on 26th May.
Meanwhile, Rahul said that he is hopeful of Irani getting food park back to Amethi.
Last week, Rahul had attacked Prime Minister Narendra Modi over the closure of a food park in Amethi saying the Central government is practicing 'politics of revenge'.
Irani had unsuccessfully contested Lok Sabha polls against Rahul Gandhi last year.