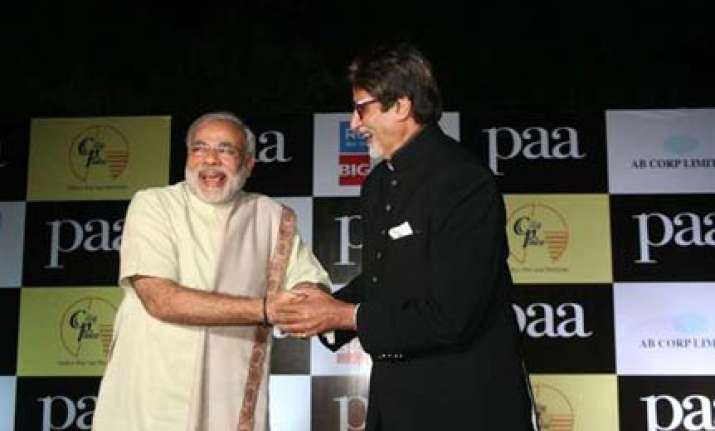 The Congress on Monday  launched a full-scale attack on Amitabh Bachchan daring him to endorse Gujarat Chief Minister's "role" in the 2002 riots as Narendra Modi joined the battle dubbing critics in the party as "Talibans of untouchability". 
Modi's taunts of Congressmen in his blog angered Information and Broadcasting Minister Ambika Soni, who said the chief minister is "very, very frustrated" in the wake of his marathon grilling by the Supreme Court-appointed SIT going into Gujarat riots. 
There has been bad blood between Congress and the actor, who was once a Congress MP and was close to the Gandhis, and things came to a head after his presence in a Maharashtra government function in Mumbai last week. At the AICC briefing, Congress spokesman Manish Tewari questioned Bachchan's role as brand ambassador of Gujarat. 
"I'm going to ask Mr Bachchan a direct question. I want to ask him as the brand ambassador of Gujarat, does he condemn the role of Narendra Modi and his government in the pogrom that took place in 2002 or does he  endorse it?....what does  he say about the Guajrat massacre and fake encounters that took place since Modi took over." 
Tewari said if he (Bachchan) was sensible and right-thinking, he should come out strongly and condemn the riots and "after that I will see for how long does he remain a brand ambassador." 
His party colleague and Information Minister Ambika Soni attacked Modi saying "I can understand that Modi is feeling very, very frustrated because for the first time in 63 years, a chief minister elected by the people is being made to stand before a Special Investigating Team for about 10 hours in a question-answer session." 
This, she said, has apparently frustrated him to use the word Taliban in a "light and flippant" manner.  "Those who have been victims of Taliban, know what Taliban is. He has used the word Taliban so lightly.  He should make such statements with some seriousness." Coming out in support of Bachchan, Modi attacked Congressmen for objecting to the actor's presence at a Maharashtra government function in Mumbai. 
"These Talibans of untouchability have lost all their sensibilities in their pursuit of anti-Gujarat attitudes. They may well  in future tell us not not eat even salt.  They may even ban the eating of Amul butter and milk and order our young people not not to wear denim jeans.  And guess why? Because Gujarat produces these things." PTI