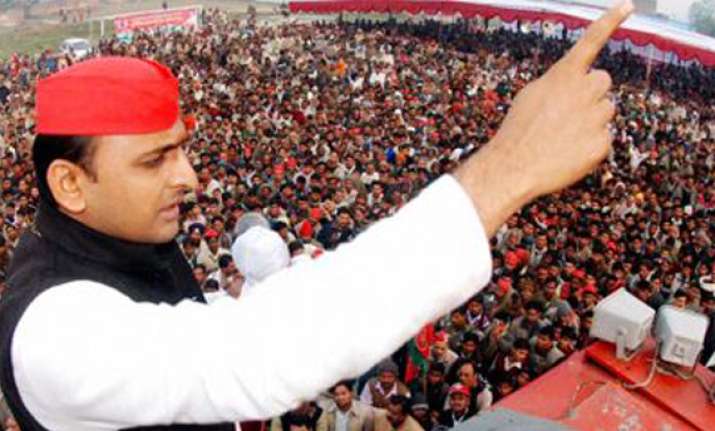 Lucknow, Feb 19: The annual budget presented in the UP Assembly today "would take the state on the path of prosperity" and help achieve the target of making it 'Uttam Pradesh', Chief Minister Akhilesh Yadav said.  
"The state will move ahead with this budget and the target of making UP 'Uttam Pradesh' (excellent state) will be achieved," Akhilesh told reporters here, "Through this budget, we have made effort to provide maximum benefit to all sections of the society, including farmers, youths, Muslims, women and poor," he said.  
"This is the first budget in which a hike of 21.5 per cent has been done in capital expenditure as against 9.8 per cent in revenue expenditure. This would create capital and attract capital investment," he said.
On a question regarding non-utilisation of funds of the previous budget, the chief minister said, "The previous budget was passed in July last and we had only seven months to work.  Moreover, at the time when the budget was passed, monsoon started (hampering development works)".
In reply to a question, he said metro service had reached Noida and Ghaziabad, but keeping in mind expansion of Lucknow and traffic problems, it was also needed here.  "A study is being conducted and work will start soon," he said.
Akhilesh said funds for centrally sponsored schemes which UP was supposed to get from the Centre were not received.  "For example, the target in MNREGA was 4,500 crore against which Rs 3,330 crore is yet to be received. Similarly, there are several schemes like Bundelkhand package of Rs 1,405 crore, of which Rs 1,308 crore is still to be received," he said.
As the funds were not received on time, the work was delayed, he said.
"This is not the complaint of UP itself, several states are making similar complaint. I not saying anything wrong...  this is not political, whatever I am saying is based on facts," he said.
In reply to another question, Akhilesh said just like in the previous budget, provisions would be made to distribute free laptops and tablets among the students.  "By the end of the current fiscal, distribution of laptops and tablets will start. Provision has been made this time as well," he said.
Regarding construction of a flyover near BSP office, he said large number of bridges were being constructed in the state. "If anything comes in the way, even then flyover will be constructed, route won't be changed. Crossing is also there."
Akhilesh said a lot needed to be done in the power sector and blamed the previous Mayawati government for the "dim" situation.
Chief Secretary Javed Usmani said of Rs 40,000 crore central assistance, only Rs 18,700 crore had been released.  He said all efforts were made to get the remaining funds and the state officers met the officers concerned.  "Several times letters were written by the CM, but remaining Rs 21,000 crore has not been released by the Centre.  We are still making efforts that we get maximum funds by the end of the financial year," he said.
Akhilesh said his government had launched several schemes and revived some old ones.
He said his government had limited time to implement schemes like Hamari Beti Uska Kal, laptops and tablets and farmers loan waiver scheme, but development works would be accelerated in the coming days.
The chief minister said 50 per cent of the sarees to be distributed among women as promised in the election manifesto would be purchased from the weavers.  He said land for any project would be acquired with the consensus of farmers.