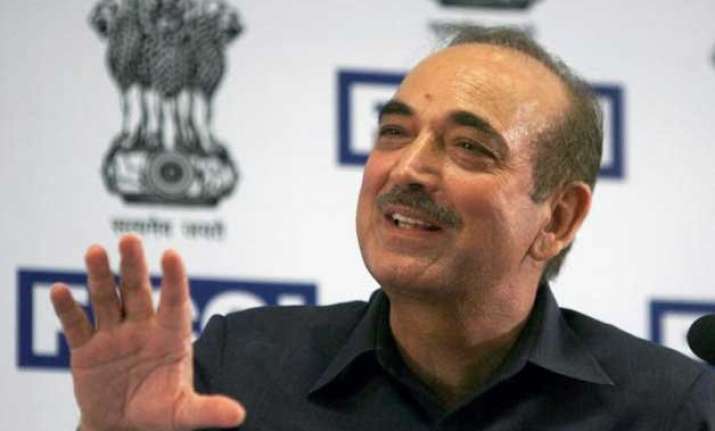 Jammu: Senior Congress leader Ghulam Nabi Azad today accused BJP of trying to disrupt the communal harmony in Jammu and Kashmir by planting "fake stories" against him in a section of media.
"I am perplexed how unsubstantiated and unverified reports, purportedly attributed to me are being manufactured in Jammu and Kashmir day in and day out. Is it not the responsibility of the media to seek my comments if it is doing a report, story quoting my name?" he said.  
Referring to a report in a local daily, stating that the leader is opposed to a "Hindu CM", Azad said, "I would like to know when have I said that a Hindu cannot become the Chief Minister of Jammu and Kashmir. There must be some record of it."
The Leader of Opposition in Rajya Sabha said that constitution, irrespective of religion, does not debar any rightful citizen of the State to become Chief Minister and rather than having an objection, he would be delighted if a person of any other religion assumes the post.  
Asserting that in a democratic set up, it is the numbers which entitle any political party to have its Chief Minister, Azad said that if BJP has the numbers what is stopping it from appointing a Chief Minister of if its choice.  He said that it is "cheap gimmickry" on the part of BJP to impute motives and ascribe fake stories to achieve political ends.
"I would like to ask BJP whom it is trying to mislead by pretending to react to a statement which has never been made, thus drawing a wedge in the society," Azad said.
"It is a cowardly attempt to deflect the attention of the people from the hidden motives and diabolical game plan of creating permanent fissures in the society," he added.  Instead of doing "cheap politicking" and "malicious whispering" through its cronies, BJP will do well to the nation and the state if it allows the single largest party to form the government without using strong-arm methods, Azad said.
He said that he would disclose at an appropriate time why the hullaballoo was being created by the BJP at this point of time.
"My views on the subject of CM are in public domain and if somebody has any doubt, he can refer to my speech made at Reasi during election campaigning," Azad said.  Accusing the BJP of playing divisive politics he said, "The core ideology of BJP is divisive in nature and panders to a particular community, while Congress has an agenda of harmony and inclusion. It compels the BJP to indulge in rumor-mongering with the intent of pitting one community against another."
Azad said that for the sake of settling personal scores with him, BJP and sangh parivaar should not play with the social unity, inter-regional peace and integrity of the state.