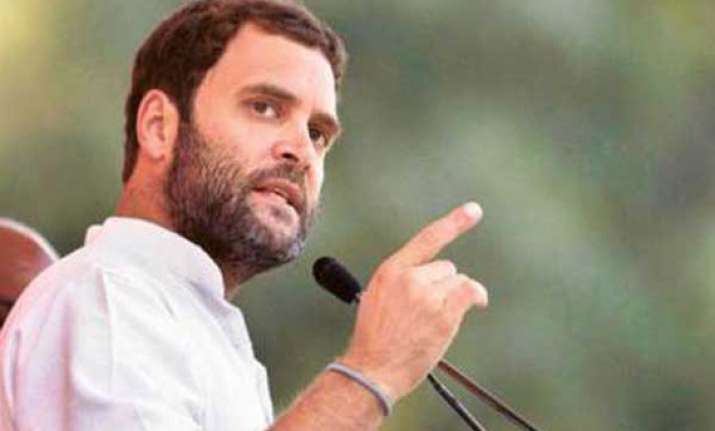 Pratapgarh: Congress Vice President Rahul Gandhi today launched a frontal attack on BJP, charging it with pursuing "politics of strife" and questioning its alliance with Shiv Sena even as he rubbished Narendra Modi's claims of development in Gujarat.
Addressing a rally in this Congress stronghold, his first in the politically crucial state of Uttar Pradesh after the announcement of the Lok Sabha polls schedule, Gandhi accused BJP of having "tried to stall" initiatives like the Right to Information Act, Lokpal, and Land Acquisition Bill which he said were "aimed at empowering the common people to solve their own problems".
In his 20-minute-long speech, during which he refrained from mentioning Gujarat Chief Minister Modi by name, Gandhi charged that BJP "does not believe in empowering the people... Its strategy has been to acquire power which rests in the people and concentrate it in the hands of one individual".
"Their leader seeks to give an impression that the development in Gujarat was his personal achievement. "He seems oblivious to the efforts of millions of people, especially women living in remote villages of Gujarat, whose hard work made success stories like Amul possible," Gandhi said.
"Congress does not have that kind of ideology. Congress believes that power must rest with the people who must get a chance to make their destiny. "Congress does not believe in their politics of strife, the politics of pitting one against the other. We believe in promoting peace and love among the people of all religions, castes and communities", he said.
Referring to the Muzaffarnagar riots, Gandhi said, "I was told by the residents of the district that mercenaries from outside had indulged in rioting and locals had to suffer the social and economic consequences."
"UP needs to be rid of such divisive tendencies. If peace and harmony prevails in the state, it will reach such levels of prosperity that people from Maharashtra and Gujarat, even advanced countries like England, would be visiting the state for their own economic uplift," added Gandhi, the Lok Sabha MP from UP's Amethi.
The Congress Vice President took a dig at BJP's publicity drive, saying that, "We (Congress) definitely lag behind them when it comes to propaganda. But it is equally true that they lag behind us when it comes to delivering on the promises made to the people".
Trying to turn the tables on the opposition over the issue of corruption, which has been used by BJP to corner the ruling Congress, Gandhi said it was Congress which had taken graft head-on by bringing in the RTI Act and the Lokpal.