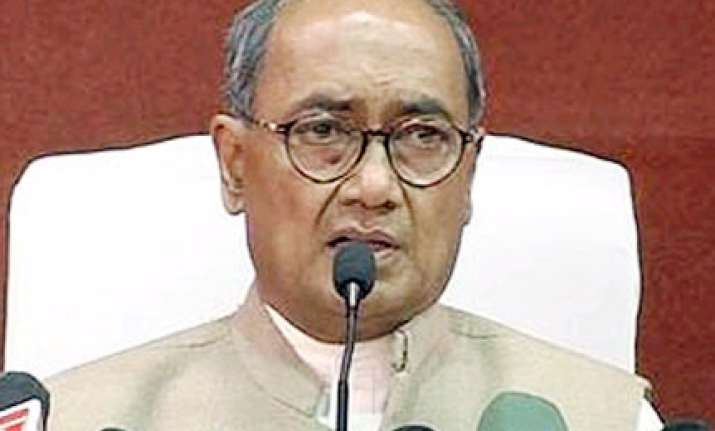 Nagpur, Oct 11: Congress general secretary Digvijay Singh today termed as "unconstitutional", BJP government in Karnataka winning a vote of confidence by voice vote after the Speaker disqualified 16 MLAs hours before the trial of strength.
"It is totally unconstitutional as disqualification is only possible when elected members of the House (MLAs in this case) defy the party whip," Singh told reporters in an informal chat today.
The anti-defection law does not apply for rebel Karnataka MLAs in this case, said Singh who arrived here after visiting the Maa Bamleshwari temple in Dongargarh (Chhattisgarh), en-route to Delhi.
"Since the MLAs were not allowed to enter the House and not even voted either way, the disqualification was illegal," he added.
Chief Minister B S Yeddyurappa today "won" a vote of confidence in the Assembly after the Speaker disqualified 16 MLAs, including 11 of BJP, hours before the trial of strength.
Singh also defended party colleague Rahul Gandhi's statement, describing the RSS as "fanatical" and equating it with banned terror outfit SIMI.
"Some members of RSS parivar were involved in terror activities including in Malegaon blast and Ajmer. Similarly, SIMI men were involved in some blast cases including the 1992 serial blasts in Mumbai. Therefore, both the organisations are fanatical," Singh said.
He recalled that during his tenure as Madhya Pradesh Chief Minister, a proposal had come up for imposing ban on Bajrang Dal and SIMI when there were adverse reports against them, Singh recalled. PTI