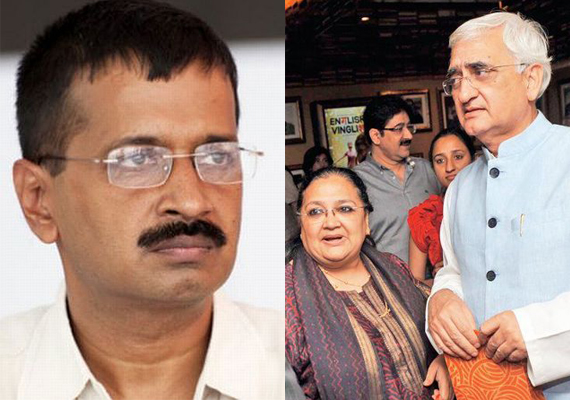 New Delhi, Nov 1: Arvind Kejriwal has denied that 'India Against Corruption (IAC)' ever tried to bargain with Louise Khurshid, Salman Khurshid's wife, for cancelling Farukkhabad protest.
Supporters of Salman Khurshid had released a CD on Wednesday which reportedly showed a conversation between Laxman Singh, a senior activist of IAC, and Louise Khurshid, wife of Salman Khutrshid.
Laxman Singh allegedly offers in the video to get the Farukkhabad protest cancelled if Louise Khurshid manages to get a Congress leader dismissed from his post.
Reacting to these charges, Kejriwal alleged that Louis Khurshid may have supplied a doctored CD.
Kejriwal said that Louise and her NGO are already facing charges relating to furnishing false affidavits and signatures of senior government officials.
Kejriwal is organising a protest in Farukkhabad today against Salman Khurshid's continuation in union council of ministers.
Kejriwal has been demanding immediate removal of Salman Khurshid from union cabinet ever since charges of misappropriation of funds were leveled against the NGO run by Salman Khurshid and his wife Louise Khurshid.
The charges are also being investigated by UP government.