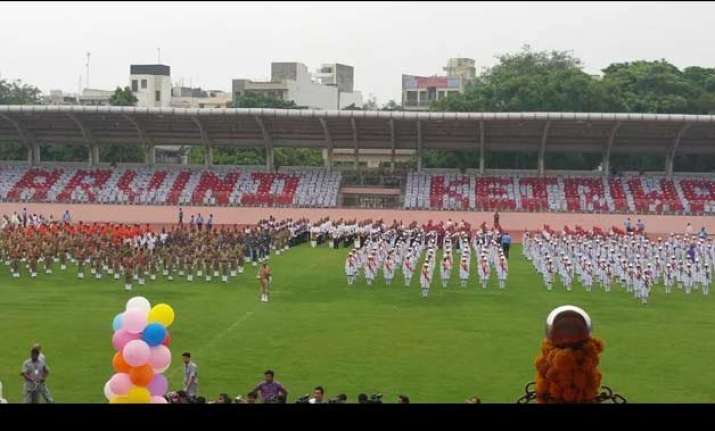 New Delhi: Delhi's Chief Minister Arvind Kejriwal today courted a new controversy on the occasion of India's 69th Independence day.  
Students participating in Independence Day celebrations were seen holding placards of Delhi Chief Minister Arvind Kejriwal. Kejriwal was also present on this occasion.
The picture of the event was tweeted by the Chairman of the Delhi Jal Board Kapil Mishra.  "Students have written name of @ArvindKejriwal using placards at Chhatrasal stadium," tweeted Mishra.
The  Kejriwal placards  did not go down with the people and many criticised it saying that  it was an   another attempt of self-glorification by Kejriwal.
Even social media reacted angrily to students holding placards of Arvind Kejriwal.The BJP demanded an apology from  Kejriwal and termed the incident a misuse of public funds for 'self-glorification'.
Reacting to charges, Delhi's transport and labour minister Gopal Rai said the Delhi  government did not like the idea of having Kejriwal's name displayed at the event but they found out it's a common practice to have the chief minister's name exhibited in such a manner.
The party even released pictures of similar displays of the names of former chief minister Sheila Dixit and Lieutenant Governor Najeeb Jung.