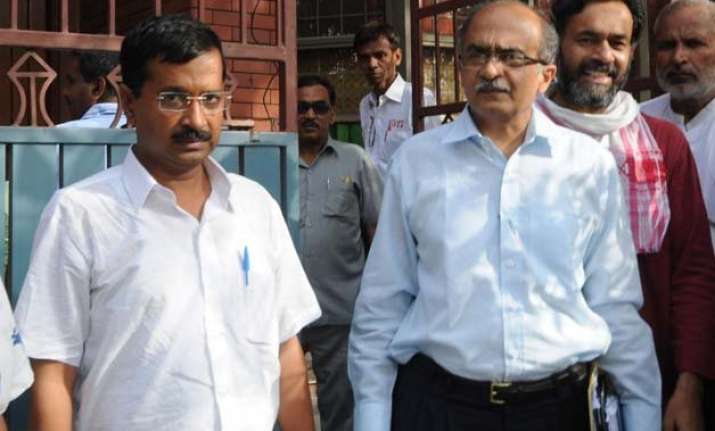 New Delhi: Reconciliation talks between two warring factions in the Aam Aadmi Party (AAP) appeared to have hit a roadblock again on Wednesday after Delhi Chief Minister and party's national convener Arvind Kejriwal reportedly insisted that dissidents Yogendra Yadav and Prashant Bhushan should quit the rookie party's national executive.
The latest development came ahead of the crucial national council meet slated for March 28.
Sources said Yadav and Bhushan made it clear that there was no valid ground for them to step down from the 21-member national executive and the rival camp should instead address the issues raised by them.
ALSO READ: Another AAP leader writes to Kejriwal alleging conspiracy against party
The AAP came to power in Delhi on the back of a crushing majority about a month ago but has been struggling to paper over the cracks after a series of leaked letters revealed a rift between two rival camps -- one supporting Kejriwal and the other comprising veterans like Bhushan and Yadav who say the chief minister is dictatorial.
The two dissident leaders were voted out of the party's all-powerful political affairs committee (PAC) recently after they questioned "a one-person centric" campaign in Delhi, in a veiled dig at Kejriwal.
ALSO READ: AAP's new riddle: Who will chair the National Council Meeting?
Kejriwal, a key aide of his said, remained firm that Bhushan and Yadav should quit the key AAP body before a national council meeting on Saturday.
Last-ditch efforts by party lokpal Admiral Ramdas to push for reconciliation failed to make any headway with both camps sticking to their stands.
However, Ilyas Azmi, a member of the PAC, said patch-up efforts were still underway. "We will keep trying till the last minute," he said after a PAC meeting in Delhi.
ALSO READ: Donations to Aam Aadmi Party drop sharply
Ahead of the meeting, Ramdas, a former navy chief, held deliberations with Kejriwal for more than an hour, during which he is understood to have conveyed to the party leader to take steps to restore unity and peace in the party.
"He (Kejriwal) is not willing to concede and has been demanding resignation of Bhushan and Yadav. Even Ramdas tried to intervene... but it is heading nowhere," said a leader close to Yadav.
Those backing Bhushan and Yadav said the two leaders will not concede to the demands of Kejriwal.
The internal rift figured in the PAC, the highest decision-making body, where majority of the members reasserted their strong support to Kejriwal.
"The dialogue that had been initiated to put an end to the current happenings in the party is still on," AAP leader Sanjay Singh said.
Yadav and Bhushan have been pressing for resolution of key issues like implementation of critical matters such as volunteers' participation in AAP's decision-making process, autonomy to its state units, bringing the party under the ambit of RTI and appointment of lokayukta at the state level.
Late in the night, Yogendra Yadav said, "A fake campaign is being run in my name. Callers with false identities proposing me as national convenor. Ridiculous. Outrageous. BEWARE!(sic)."
"More info about fake campaign coming in. If anyone calls you on my behalf and solicits support for me against AK (Arvind Kejriwal), please note the no and report," Yadav tweeted.
The tweets came against the backdrop of reports that calls were being made and messages were sent to AAP volunteers and national council members purportedly on behalf of Yadav, projecting him as the national convenor replacing Kejriwal.
Earlier, reports surfaced that AAP leader Shanti Bhushan would hold a meeting with the dissidents, a day before the party's national council meet on March 28, to discuss the issues of 'swaraj (self-rule)' and 'internal democracy'. Shanti Bhushan has, however, denied the reports.