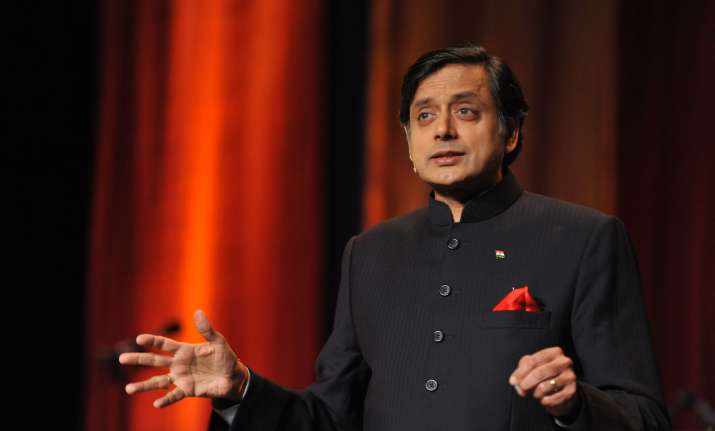 New Delhi: Congress MP Shashi Tharoor, who has been in the thick of a storm following his comments comparing JNU leader Kanhaiya Kumar with freedom fighter and national hero Bhagat Singh, today made a sharp comment on Union HRD minister Smriti Irani saying he would rather prefer Tulsi on television serials than trying to run the HRD ministry.
"In Afghanistan, in the last decade, nobody could call an Afghan at 8.30 in the evening and get him to pick up the phone because that was the time when 'Kyunki saas bhi kabhi bahu thi' would be telecast, it was such a popular show....why we would rather prefer Tulsi on TV serials than try and run the HRD ministry," Tharoor said at an event in the national capital on Friday.
Tharoor also defended Kanhaiya Kumar saying the student never said he wasn't proud to be an Indian. "When this young man, who you object to so strongly, stands up and says I want freedom from...he mentions casteism, he mentions capitalism. I don't agree necessarily to things that he talks about. He has never said that he doesn't take pride in being an Indian," Tharoor said.
Tharoor had last week stirred a row after he  compared Kanhaiya with freedom fighter Bhagat Singh, drawing  flak from BJP while Congress distanced itself from his remarks.
Sharing an anecdote about K R Narayanan, the first Dalit President of the country, Tharoor said, "Despite being a brilliant student, he was not given his degree at the same ceremony as his upper caste classmates.
This man could have easily turned bitter against India but he wanted to change the system within".
"What we can take pride in is not the injustice he suffered, but in the fact that through our democracy, we were able to ensure that boy who suffered this kind of humiliation rose to the highest constitutional post of the country. The notion is what we must take pride in," he said.
He also said only focus on hard power comes with limitations, as we have seen that US got defeated in Vietnam, USSR  bite the dust by  Afghani Mujaheedins and in latest US invasion of Iraq.
Quoting Joseph Nye an american political scientist,Tharoor  said, country's soft power can come from three resources: its culture (in places where it is attractive to others), its political values (when it lives up to them at home and abroad), and its foreign policies (where they are seen as legitimate and having moral authority).'
"India is perhaps the most important country in the future of the world as all the influences of this world runs from this society.," he added from Nye's quote.
(With PTI inputs)