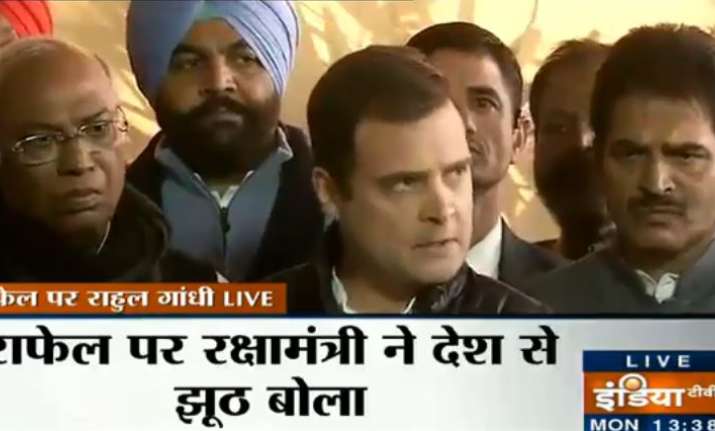 Replying to Congress president Rahul Gandhi's allegation that she "lied" in Parliament over Hindustan Aeronautics Limited (HAL) procurement orders, Defence Minister Nirmala Sitharaman on Monday said that the state-owned aerospace and defence company was given contract worth Rs 1 lakh crore and Rs 73,000 crore is in pipeline.
"I have received confirmation from HAL that contracts during 2014-18 worth Rs 26,570.80 crore have already been signed with HAL," she added.   
Later in the day, in a press conference, Rahul Gandhi attacked the defence minister and again said that she lied in the Parliament. 
"When you changed the deal from 126 aircrafts to 36, have you consulted the Army," Gandhi asked.
"I want PM Modi to have a debate with me for 15 minutes and the entire country will come to know what happened in Rafale deal," said Congress president and added that Sitharaman is still talking as a spokesperson of Defence Ministry. 
The Winter Session of Parliament witnessed another round of fiery debate on Monday as Defence Minister Nirmala Sitharaman and Congress president Rahul Gandhi got engaged in a Twitter battle over the issue of procurement orders worth Rs 1 lakh crore to HAL.
On Sunday, Gandhi alleged that Sitharaman "lied" in Parliament that government orders worth Rs 1 lakh crore were provided to HAL. He demanded that she should either place the documents in support of her statement in the House or resign.
"When you tell one lie, you need to keep spinning out more lies, to cover up the first one. In her eagerness to defend the PM's Rafale lie, the RM lied to Parliament. Tomorrow, RM must place before Parliament documents showing 1 Lakh crore of Govt orders to HAL. Or resign," tweeted Gandhi.
However, Sitharaman was quick to hit back. It is a matter of "shame" that the Congress chief was "misleading" the country without fully understanding the issue, she said.
"It's a shame that the president of @INCIndia is misleading the nation. HAL has signed contracts worth Rs 26570.8 Cr (Between 2014 and 2018) and contracts worth Rs 73000 Cr are in the pipeline. Will @RahulGandhi apologise to the country from the floor of the house?," Sitharaman tweeted from the defence minister's official handle.
Gandhi's attack came after a media report claimed that "not a single rupee of the said Rs 1 lakh crore has come to HAL, since not a single order, as claimed, has been signed till now". The media report cited senior HAL management officials in order to back its claim.
There was another report that said HAL was forced to borrow money to pay salaries to its employees.
Meanwhile, in a tweet, HAL said the contracts for light combat aircraft and light combat helicopters are "in advanced stages" and that it has taken overdraft of Rs 962 crore.
"In view of the various media reports on HAL,following is clarified: HAL has taken overdraft of Rs 962 crores. With anticipated collection upto March, the cash position is expected to improve. Orders for LCA Mk1 A (83) & LCH (15) are in advanced stages," it said.
Alleging that it denied the HAL an offset contract under the Rafale fighter jets deal with France, the Congress has been targeting the government. However, the government has denied all the allegations.
WATCH VIDEO:
(With inputs from agencies)