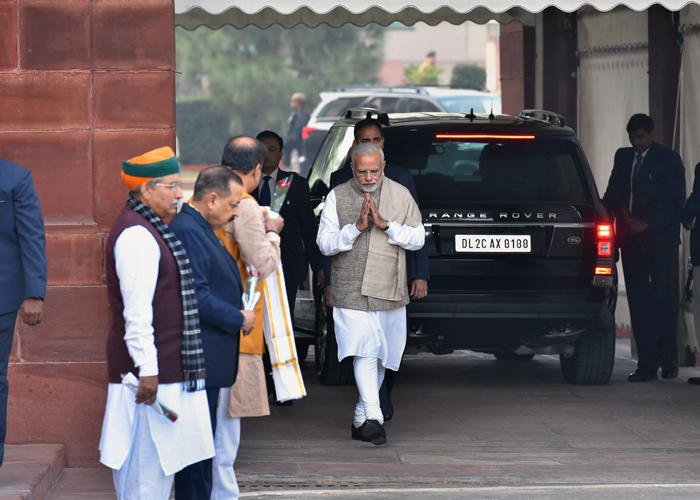 PM Narendra Modi on Friday hoped the Winter Session of Parliament will be a productive one with constructive debates and innovative suggestions that will help resolve the country's problems.
"The Winter Session of Parliament is starting and I am confident that it will be a productive session. I hope there is good debate, constructive debate and we come up with innovative solutions to our nation's problems," the prime minister said.
The government is expected to table 25 pending bills and 14 new ones, including a bill providing Muslim women the right to seek maintenance in case of triple talaq, during the session that would continue till January 5, 2015.
Opposition uproar in Rajya Sabha; Lok Sabha adjourned for the day after obituary references
Disruptions marred the first day of the Winter Session of the Rajya Sabha as a determined opposition stalled proceedings protesting the disqualification of former JD(U) chief Sharad Yadav and another MP of the same party and certain recent remarks of the Prime Minister.
The House was first adjourned for about 20 minutes till noon and again till 2.30 pm after it reassembled, with members of the Congress and Samajwadi Party trooping into the Well and raising slogans opposing the disqualification of Yadav and Ali Anwar Ansari.
When the House reassembled after the first adjournment at noon, the Congress members also protested against Prime Minister Narendra Modi's remarks against his predecessor Manmohan Singh, after Leader of Opposition Ghulam Nabi Azad raised the issue.
Earlier when the House assembled, Chairman M Venkaiah Naidu led the House in paying tributes to ten former members who passed away during the inter-session period.
Thereafter, the Prime Minister introduced new ministers to the House, following which Zero Hour mentions were taken up Rajya Sabha adjourned till 2.30 pm.
Meanwhile, the proceedings of the Lok Sabha on the first day of the Winter Session were also adjourned after the House paid tributes to three sitting and seven former members who died during the inter-session period. The House would now meet on Monday.
As soon as the House assembled, newly-elected Congress member from Gurdaspur Sunil Kumar Jakhar was administered the oath, which he took in Punjabi.
PM Narendra Modi greeted Jakhar with a handshake when the former greeted him with folded hands after taking oath.