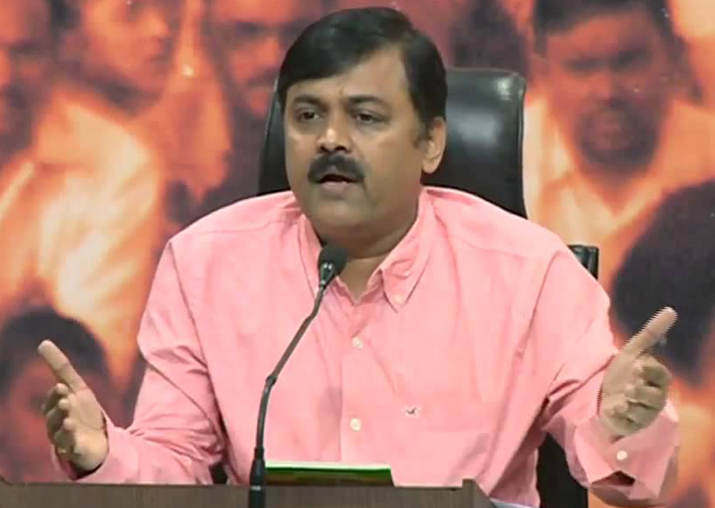 The Bharatiya Janata Party (BJP) today hit back at Congress president Rahul Gandhi for asking Prime Minister Narendra Modi to tell people in Davos why 1% of the country's population has 73 per cent of its wealth. 
Party spokesperson GVL Narasimha Rao blamed the Gandhi family for the current scenario. He said that "it was the result of Gandhi family's patented poverty perpetuation governance model".
"Dear Rahul Gandhi, this inequality is the disastrous consequence of your family's patented Nehru Congress's "Poverty Perpetuation" Model of Governance by which only Congress is became rich. Isn't your comment a case of pot calling the kettle black?" he tweeted.
"For the Congress, "Garibi Hatao" was a political slogan, while for PM Shri Narendra Modi, "Sabka Saath, Sabka..." he added.
The Congress president had on Tuesday took a jibe at PM Modi, asking him to inform the top global forum "why one per cent of India's population gets 73 per cent of its wealth?".
"Dear PM, welcome to Switzerland! Please tell DAVOS why 1% of India's population gets 73% of its wealth? I'm attaching a report for your ready reference," he had tweeted. 
Rahul attached a new survey by international rights group Oxfam in which it is mentioned that India's richest one per cent garnered as much as 73 per cent of the total wealth generated in the country in 2017. 
The report's findings are in line with those of similar studies including the one published by renowned economists Lucas Chancel and Thomas Piketty last July, and give credence to the theory that the rich have disproportionately benefited from liberalisation while others have been left struggling.
Modi on Tuesday attended the WEF in Davos, Switzerland and gave the opening plenary speech. He is the first Prime Minister from India to participate in a forum meeting in two decades after the then Prime Minister H.D. Deve Gowda in 1997. He interacted with 120 members of the International Business Council, which is a part of the WEF.