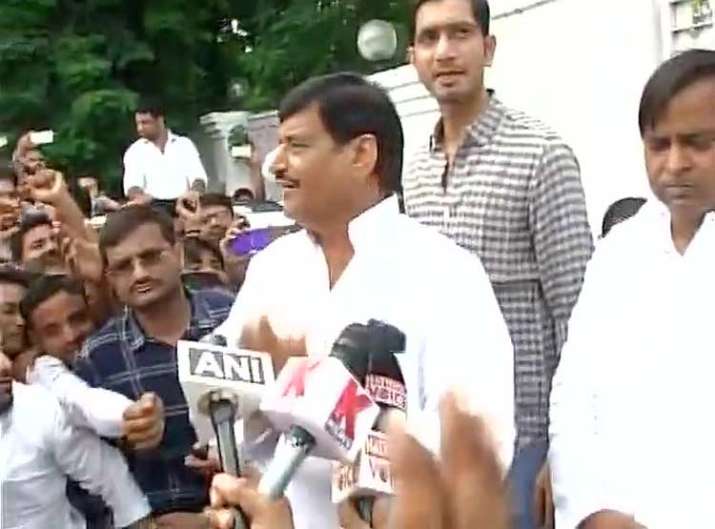 Pledging his allegiance for Samajwadi Party supremeo Mulayam Singh Yadav, his borther Shivpal Yadav on Friday said that "Netaji's message is command for him." 
"Hum sab Netaji (Mulayam Singh Yadav) ke sath khade hain. Unka sandesh humare liye adesh hai (We all stand by Netaji, his message is order for us)," Shivpal told his supporters who had camped outside his Lucknow residence since midnight.  
"We have to work towards strengthening the party. I urge you all to go to the party office where Netaji will be coming," Shivpal said while addressing his supporters.  
Shivpal's supporters greeted him with cheering slogans and also raised slogans of "Ram Gopal ko bahar karo (throw out Ram Gopal Yadav)".  
Hundreds of Shivpal Singh's supporters camped outside the 7, Kalidas Marg residence of the former minister, raised anti-Akhilesh Yadav slogans demanding that all departments be restored to their leader.
The protesting supporters said Shivpal should be retained as the state president and that he was humiliated by the Chief Minister.
They demanded that Akhilesh should touch Shivpal's feet as a nephew and say sorry.
Many leaders wept openly and threatened to immolate themselves if their demands were not met.
More than two dozen legislators also met Shivpal Singh Yadav on Friday. Sacked minister Gayatri Prajapati also had a meeting with Shivpal here.
While Shivpal quit both party post as well as the state cabinet's, his wife Sarla stepped down as chairperson of the Etawah Cooperative Bank, and son Aditya resigned as Chairman of PCF (Uttar Pradesh Cooperative Federation Ltd.) on Thursday.
The developments were seen as a family feud, as majority of the Yadav clan felt Akhilesh had not only humiliated his uncle and the former PWD minister by stripping him of important portfolios, but also viewed it as a direct challenge to the family patriarch -- the SP chief.
In a significant development yesterday, Shivpal had tendered his resignation as the SP state unit head and also as a minister in the cabinet of nephew Akhilesh Yadav, with whom he is at loggerheads. 
His move brought out the feud in Mulayam Singh Yadav's family out in the open.  
Shivpal submitted his resignation from both the posts to Mulayam, who rushed to Lucknow from Delhi on Thursday evening to douse the flames that threaten to hurt the ruling party in the Assembly polls due early next year, sources said. 
Shivpal's wife Sarla also gave resignation as a District Cooperative Bank Chairperson, Etawah, and son Aditya gave resignation as Chairman of Pradeshik Cooperative Federation, the sources added. 
Just after the resignation, supporters of Shivpal Yadav gathered outside his residence in Lucknow and raised high-pitched slogans.  
Earlier, as the first family of Uttar Pradesh battled an open war within, Mulayam Singh rushed to Lucknow and met Shivpal and Akhilesh separately to douse the flames.  
As soon as he reached here, the SP summoned Shivpal and held closed door meeting with him.  
Shivpal later met Akhilesh at his official residence, sources said, adding the meeting came at the behest of Mulayam. 
Immediately thereafter, Mulayam met his Chief Minister son Akhilesh, the sources said.  
The Mulayam family has been dogged by serious differences but matters reached a flash point on Tuesday after Chief Minister shunted out Chief Secretary Deepak Singhal, considered as his uncle Shivpal Yadav's favourite.  
In a tit-for-tat action, Mulayam took away the post of UP Samajwadi Party chief from his son Akhilesh, perhaps to smooth the ruffled feathers of Shivpal.  
But, within hours a peeved chief minister hit back by clipping his uncle's wings by divesting him of his key PWD, Irrigation and Cooperative portfolios.