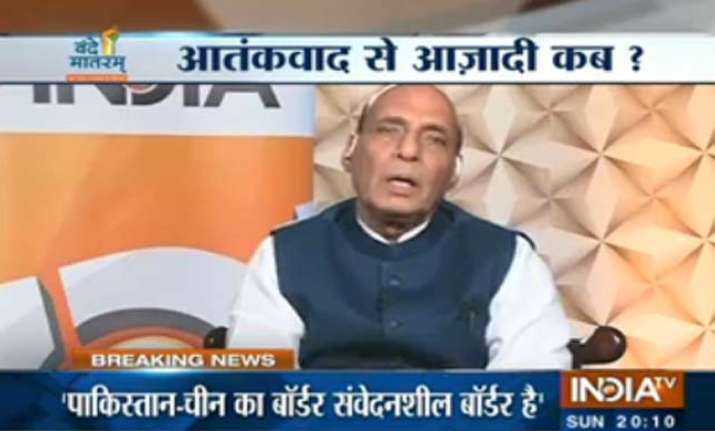 Home Minister Rajnath Singh tonight said that the Centre was working towards a permanent solution (sthayi samaadhaan) to the Kashmir problem, but he did not elaborate. 
Addressing India TV conclave 'Vande Mataram' here, Singh said, "whatever steps we are now taking in Kashmir is towards a permanent solution of the issue. I will not like to clarify much, and it would not be proper too. Kashmir should maintain its identity." (Kashmir ki apni identity bani rahni chahiye)
On yoga guru Swami Ramdev's assertion that India should "occupy" Pak Occupied Kashmir, the Home Minister smilingly said: "We also occasionally think about this. But there is a vast difference between speaking from a public platform and working in a government. We have to work carefully (vivek se kaam karna chahiye)."
Asked why India cannot carry out an Abbottabad-type operation in which Osama bin Laden was killed, the Home Minister smiled and replied: "India today is not weak. We are now stronger. It is a question of time as to what to do, then we will see. (kya karna chahiye, woh samay ki baat hoti hai, Tab dekhenge) "
The Home Minister claimed that there has been a decline in stonepelting incidents in the valley. "But we are not satisfied with this. Stone pelting must stop altogether. We have to provide jobs to Kashmiri youths."
Also Read: Vande Mataram India TV: Indian Muslims will never let ISIS gain foothold in India, says Rajnath Singh
On the PDP-BJP government in Kashmir, Rajnath Singh said, the Common Agenda of Governance is an "experiment which is continuing. I can say emphatically that the state government is not obstructing our fight against terrorism. I salute the state police for its efforts to curb terrorism."
The Home Minister reiterated that the Centre's "doors for talks with Hurriyat leaders are open. We never closed the doors for talks."
On Pakistan, he said, "talks with the neighbouring country have stopped for now. If Pakistan assures us that it will not provide its soil for terror attacks against India, talks can resume. Pakistan will have to change (its stance), if not today, tomorrow (Aaj nahin sudharega , toh kal sudharna padega)". 
Also Read: Vande Mataram India TV Conclave on countering terrorism: As it happened
On return of Kashmiri Pandits to the valley, the Home Minister said, "during late Mufti Saheb's time it was agreed that Kashmiri Pandits would be rehabilitated. I have been told some land had been earmarked. Instead of setting up separate colonies, a certain percentage from other communities would have settled with them. 
"The Centre had no objections. But conditions changed for the worse, and the implementation is getting delayed. I cannot say that this will happen in a year or six months. It cannot be done in a hurry."