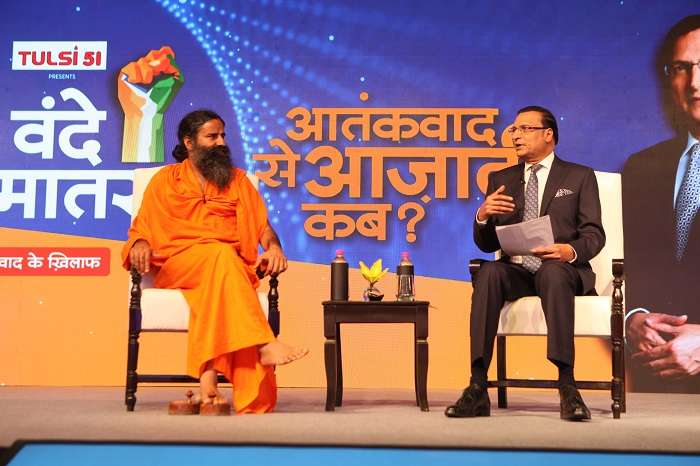 Yoga guru Swami Ramdev today claimed that "any one who masters the art of yoga can never become a terrorist". Not a single person who has mastered yoga ever became a terrorist in history, he added. 
Speaking at the India TV conclave 'Vande Mataram' here, Ramdev said, "a terrorist or a suicide bomber normally has a "dyslexic problem" because he is brainwashed to the core. On the other hand, a person who has learnt yoga believes the world is his family. For him, all religions and God, in all His manifestations, are the same."
In the same breath, the yoga guru called for a "war between India and Pakistan". "So many of our jawans have been martyred. They have attacked us so many times. Why not a war to end all such attacks? We should conquer Pak Occupied Kashmir and merge it in India."
"We should support Balochistan independent movement and break Pakistan into three parts."
Also Read: Vande Mataram India TV: Security forces dominating in Kashmir, number of terrorists dwindling, says Arun Jaitley
He also called for a boycott of all Chinese goods in India, saying that China was fully backing Pakistan in its terror activities. "We can easily outpace China and become a superpower."
Ramdev said, he was very optimistic about Prime Minister Narendra Modi's government taking action against terror masterminds like Hafiz Saeed, Dawood Ibrahim and Masood Azhar. "Wait till 2019, I think he may do it."
The yoga guru, who commands a huge business empire, disclosed that his company is in the process of acquiring 150 acres of land in Jammu and Kashmir, and would be offering jobs to Kashmiri youths soon.