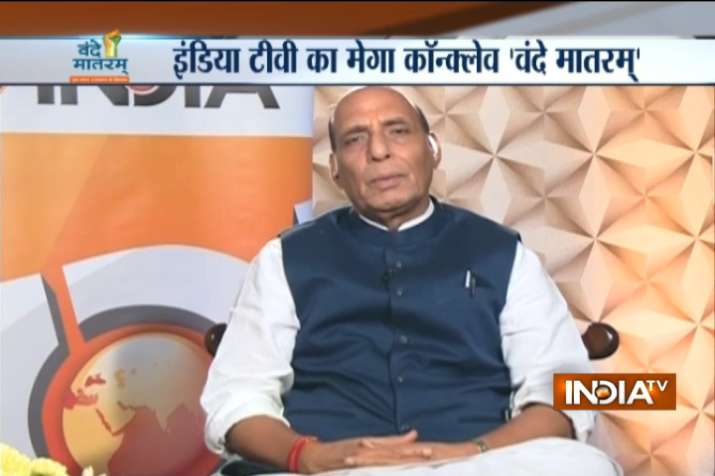 Asserting that the influence of the Islamic State in India has been limited compared to other countries, Union Home Minister Rajnath Singh on Sunday exuded confidence that Indian Muslims will never let the dreaded terror organisation gain foothold in the country. 
Speaking at India TV conclave 'Vande Mataram' here, Rajnath said, "ISIS is a global menace at present but its influence in India has been very limited in comparison to other countries. We must give credit to Muslims of this country for this. Many families reported when they noticed the influence of the ideology in their children. I am very confident that Indian Muslims will never let the terror group gain foothold in India." 
Rajnath, who could not attend the event in person because of health issues, answered India TV Chairman and Editor-in-Chief Rajat Sharma's questions through video conferencing. 
Also Read: Vande Mataram India TV: Security forces dominating in Kashmir, number of terrorists dwindling, says Arun Jaitley
Discussing the internal security challenges the country is faced with, the Home Minister said besides terrorism and Naxalism, armed insurgency in North East is the third biggest challenge before the country. He, however, said security forces have achieved great success against militant groups in the region.
Talking about militancy in Jammu and Kashmir, Rajnath said, "Terrorism did not originate in India but it is sponsored by Pakistan." 
"The world is watching how strongly we are acting against terrorism. I want to congratulate our armed forces on their success against the menace. I assure my countrymen that we will eradicate terrorism from our country," he said. 
Also Read: Vande Mataram India TV: Working towards a permanent solution in Kashmir, says Rajnath Singh
The minister said that people in Kashmir have helped a great deal in fight against terrorism. "Terrorism has no religion and we will secure support of all people in the fight against the menace. There are forces in Kashmir, sponsored by Pakistan, that instigate youth to adopt the wrong path," he said, adding that jawans of state police forces are crucial to the fight. 
On Opposition's demand that the government needs to talk to all stakeholders to bring peace in Kashmir, Rajnath said, "I have visited the Valley many times and I have never said no to anyone for a meeting. My door is always open, we have never closed the path of dialogue." 
Singh said that the Centre was working towards a permanent solution to the Kashmir problem and all steps taken by the Narendra Modi government have been towards this end. 
Also Read: Vande Mataram India TV: 'Supersession in the Armed forces', says Manish Tewari on appointment of Gen Bipin Rawat as Army Chief
"We will find a permanent solution to Kashmir problem and all steps that we have taken are in that direction," he said. 
Rajnath acknowledged Naxalism as a grave challenge to the security of India but said the fight against it has been highly successful. 
"Paramilitary forces are doing their best to counter Naxalism. We have achived great success in our fight against Left Wing Extremism. Operations against Naxalism are led by state governments, Centre only provides help. Operations led by states have been very effective. Naxalism is now limited to only 6-7 districts of the country which was once spread in over 100 districts," he said. 
Also Read: Vande Mataram India TV: Burhan Wani was not a terrorist, says Shabnam Lone
Rajnath said cyber terrorism is also a big challenge for the country. He, however, said the fight against cyber terrorism has been very effective.
On chances of talks with Pakistan, Rajnath said "as of this moment, talks are halted." He said that talks with the neighbour will only resume when it assures concrete action against terror elements.