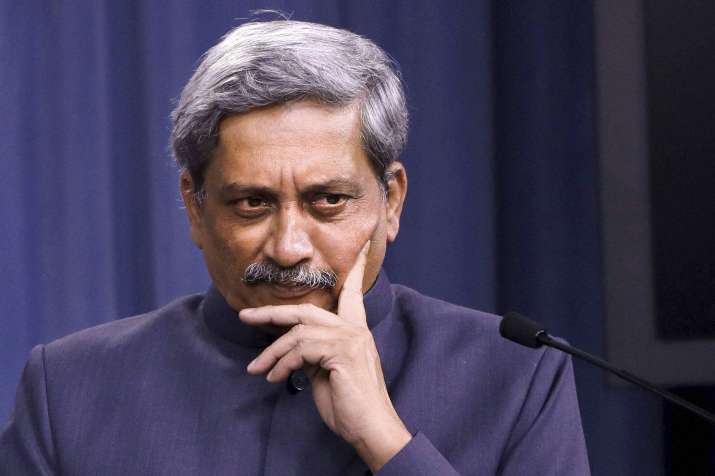 Defence Minister Manohar Parrikar on Wednesday accepted that there must have been some lapses on part of India that worked to the advantage of terrorists who managed to attack the Army base in Uri, resulting in the death of 18 soldiers.
"Obviously something must have been wrong. I will not go into detail of it. Obviously it is a very sensitive matter. I believe in zero error," Parrikar was quoted as saying by the PTI. 
"When something goes wrong, while you try to correct it, you should also ensure that it does not happen again. We will definitely find out what went wrong and also take steps to ensure it does not go wrong again," the Defence Minister said. 
"As a nation, we should ensure this is not repeated again and again," he further said, adding that he will take steps to ensure that nothing goes wrong again. 
"Not saying specifically on this incident, but if I want I can have a knee-jerk reaction," he said. 
The minister said he prefers in implementing things than talking about it. 
Vowing strong action against the perpetrators of Uri attack, Parrikar said that Prime Minister Narendra Modi's statement promising action against those behind the attacks will not remain a mere statement. 
"We take proper reading of everything and I don't think Prime Minister's initial words that 'those responsible will be punished', will go as a mere statement. How to punish, that is for us to work out. We are quite serious about it, " Parrikar said. 
He was responding to questions about what India's response to the attack will be. 
To a question on reports about Pakistan's threat of use of tactical nuclear weapons, Parrikar said the person who has strength, usually makes less noise. 
"Empty vessel makes bigger noise. This country is a very responsible power, but that does not mean I will sleep over this kind of terrorism that is being pushed from across. How do I do it is entirely for the government under the Prime Minister, to decide," he said. 
Parrikar's remarks came on a day when Army Chief Gen Dalbir Singh Suhag met National Security Advisor Ajit Doval. 
Meanwhile, the Army today carried out intense combing-cum-search operations in Uri and Naugam sectors along the Line of Control in Kashmir where alert troops foiled two infiltration bids but have so far drawn a blank in retrieving bodies of the slain militants. 
Army personnel continued their search operations in the higher reaches of Uri and Naugam sectors of Baramulla and Tangdhar districts respectively but have not managed to reach the spot where the bodies were supposed to be lying. 
The army personnel were maintaining a tight vigil to foil any fresh attempts by militants to sneak in through these sectors by breaking the security cordon or inflicting casualties on the troops. 
"The operations along the LoC in Uri and Naugam sectors continue," an Army spokesman said. 
One soldier was killed yesterday as Army foiled two infiltration bids in the two sectors of Kashmir. 
Army officials in New Delhi yesterday had claimed that 15 terrorists had attempted to cross the LoC. 
The infiltration bid came just two days after the deadly attack by four Jaish-e-Mohammed terrorists on the Army base in Uri which claimed the lives of 18 soldiers and left several others injured. 
As part of strengthening the counter-infiltration grid, army is firing illuminators intermittently at night to prevent more militants from sneaking in to this side of LoC, thesources said.