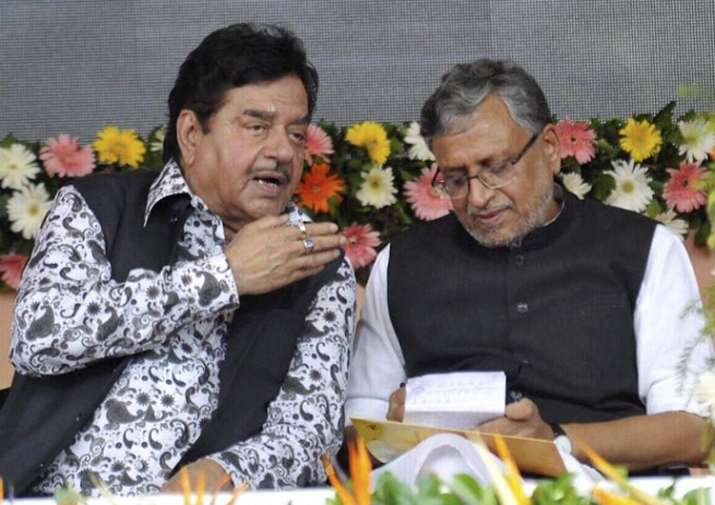 Senior Bihar BJP leader Sushil Kumar Modi today demanded that "traitors" be thrown out of the party after MP Shatrughan Sinha came out in support of RJD chief Lalu Prasad Yadav and Delhi Chief Minister Arvind Kejriwal calling for an end to "negative politics and mudslinging".
In a series of tweets on Monday morning, the actor-turned-politician said, "Enough of negative politics & mudslinging by opponents on our political leaders, be it Kejriwal, Laloo Yadav or Sushil Modi. High time to substantiate your claims..or pack up! Can't just keep feeding media with one night stories & sensationalising. Enough is enough! (sic)"
Backing the Aam Aadmi Party (AAP) national convenor, Sinha said, "Individually I hold all political leaders, especially Kejriwal, in high esteem for their credibility, struggle and commitment towards society."
Sinha, taking a dig at his own party, said: "Our BJP surely believes in honesty and transparency, which seldom go together, but must go together. An allegation is only that unless proved."
The MP's tweet drew an angry reaction from Sushil Modi who responded with a demand that the "enemies of the party" (Sinha) must be "removed" at the earliest.
Sinha's remarks came at a time when the party has been accusing both the leaders of being involved in corruption cases.
Former Bihar Deputy Chief Minister Modi has charged Lalu Prasad and his children - Bihar Deputy Chief Minister Tejashwi Yadav, Health Minister Tej Pratap Yadav and Rajya Sabha MP Misa Bharti - of being involved in corrupt land deals.
Kejriwal has been accused of being involved in corrupt practices by suspended AAP legislator Kapil Mishra.
Slamming Sinha, Modi said that it was not necessary to believe the actor and the party must remove such "traitors".
"It is not necessary to believe the man who is famous. The traitors must be sent out immediately," Modi tweeted.
"When Nitish (Kumar) didn't come out in support of Lalu (Prasad), the enemy of BJP has jumped in his support now," Modi said.
Sinha did not maintain silence after Modi's attack and responded with another series of tweets saying "positive & constructive criticism should not be taken as rebellion."
"Positive & constructive criticism should not be taken as rebellion. Instead, it should ignite a debate within the party. Wouldn't like to comment on utterances out of frustration & desperation made against me by some vested interests & spoilers of inner party democracy," he said. 
Taking a dig at Sushil Modi, who led the BJP's campaign in Bihar in 2015, Sinha said, "Some people who are wholly & solely responsible for OUR party's debacle in Bihar r today crying hoarse,hoping to regain their lost image at the cost of some senior and popular colleagues who have an impeccable image (sic)."
"Sycophants criticise for the sake of criticism & get low & personal. I pray that God should spare them for they know not what they speak. Hope wish & pray that our dashing dynamic action hero Prime Minister @narendramodi & our hon'ble President of @BJP4India will take notice of such unparliamentary utterances of some of our party people - that too against a senior party colleague & a staunch party loyalist," he added. 
Sinha has repeatedly criticised the central government led by Prime Minister Narendra Modi since the 2015 Bihar Assembly elections after he was sidelined in the party.
He has backed Bihar Chief Minister Nitish Kumar and Kejriwal on several occasions.