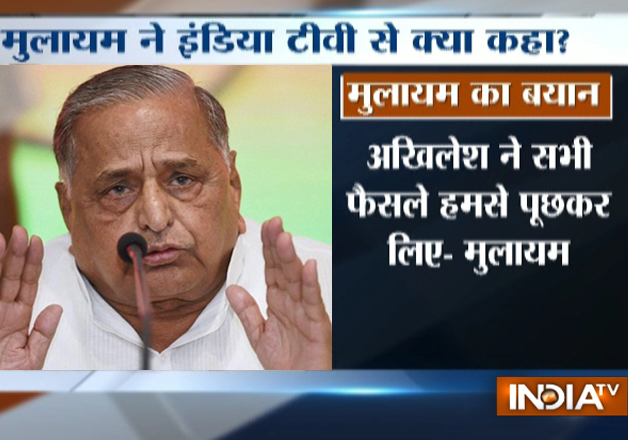 Speaking out for the first time since controversy broke in Uttar Pradesh's first family, Samajwadi Party supremo Mulayam Singh Yadav today told India TV that Shivpal Yadav, who was stripped of key portfolios by CM Akhilesh Yadav late on Tuesday evening, will remain in the party and not join Akhilesh's Cabinet again.
"Shivpal is a ground leader. Every party worker knows him. He will remain in the party, not in the government," he said, indicating that Shivpal was unlikely to continue as a minister in Akhilesh's cabinet. 
Samajwadi Party chief Mulayam Singh Yadav today further said that the decisions taken by Akhilesh Yadav were on his directions and that there should be no controversy over it.
"Akhilesh took decisions after consulting me," Mulayam said just ahead of boarding a flight for Lucknow. This was the first time the SP supremo spoke since the differences within the family came out in the open.
Mulayam also rubbished the reports of differences between Akhilesh and his uncle Shivpal.
"No difference between Shivpal and Akhilesh. I will speak to you (media) in Lucknow," he said, adding that "he (Shivpal) is not angry".
The crisis in Uttar Pradesh's ruling Samajwadi Party continued today with party general secretary Ram Gopal Yadav failing to persuade Akhilesh Yadav to call a truce with Shivpal Yadav. 
Reports suggest that Mulayam had asked Ram Gopal Yadav, also a Rajya Sabha MP, to bring about a truce between his son Akhilesh and Shivpal.
Emerging after a 50-minute meeting with Akhilesh Yadav, Ram Gopal Yadav said he was hopeful that a solution to the leadership crisis in the party would come about soon.
Stating that "Netaji" -- Mulayam Singh -- was the final authority in the party and family matters, Ram Gopal Yadav also ruled out any discontent or anger in the state's first family.
Meanwhile, Shivpal Singh Yadav returned from New Delhi to Lucknow earlier this morning to a rousing welcome by hundreds of supporters at the Chaudhary Charan Singh airport.
Asked to comment on the power struggle in the party, he said he had nothing to say but he would "work dedicatedly to uphold the responsibility given to him by Netaji".
His son Aditya Yadav, who had accompanied his father to New Delhi, said the post of state president of the ruling party was a major responsibility that Shivpal Yadav would discharge to the best of his abilities.
The entire episode was triggered after Akhilesh Yadav had sacked two ministers -- Gayatri Prajapati (Mining) and Rajkishore Singh (Panchayati Raj) -- considered close to Mulayam Singh and Shivpal Yadav on Monday.
Akhilesh also removed Chief Secretary Deepak Singhal, who was also known to be close to Shivpal Yadav, on Tuesday. Akhilesh was then removed as state party chief and replaced by uncle Shivpal Yadav. Akhilesh in turn divested Shivpal of plum portfolios in the state cabinet.