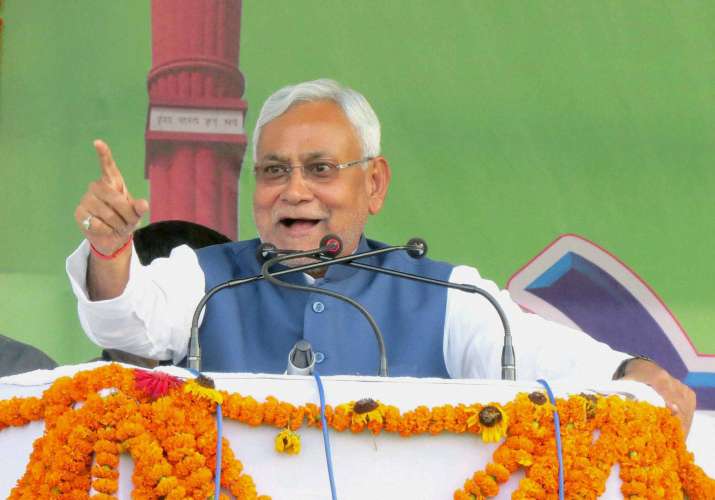 An increase in the sale of rasgulla and milk by 16.25 per cent and 11 per cent respectively in Bihar in the seven months since the ban on alcohol is taking the state towards consuming healthy food and boosting the state's economy, Bihar Chief Minister Nitish Kumar said.
The sale of milk has increased by 11 per cent in the past seven months since ban on alcohol in Bihar, Kumar said addressing a "Chetna Sabha" on the launch of "Nishchay Yatra" here in West Champaran district.
"Sale of Rasgulla has increased by 16.25 per cent in the past seven months since prohibition came into effect in Bihar," Kumar said.
In addition, sale of healthy foods like Peda, paneer and Dahi Matha (product of curd) has also risen since ban on liquor was clamped in Bihar in April, he said.
Consumption of sweets and honey have also witnessed a tremendous rise, he said counting virtues of ban on alcohol, spiced and domestic as well as Indian Made Foreign Liquor (IMFL) since April this year. Kumar said that earlier a sum of over Rs 10,000 crore was wasted annually by citizens on liquor which now they are utilising on healthy foods and thus boosting the state's economy.
The "Nishchay Yatra" of Kumar is aimed at taking feedback from people on prohibition as well as on "seven resolves" which has been adopted by the government as "policy of governance" for next five years. The "seven resolves" also include civic amenities like drinking water, toilet, roads and electricity for every household.
With the BJP staging a sit-in in Patna against "Nishchay yatra", Kumar, who is also JD(U) national president, took potshots at the rivals, saying they were suffering from "vikrit manuvriti" (perverted mentality). "These are programmes of good governance and social and economic well being of all citizens…these are 'nishchays' (resolve) of Bihar and not only of me," he said, hitting at political rivals who he said were "unable to digest it."
Kumar said prohibition has been promulgated when Bihar was bracing to observe centenary of Mahatma Gandhi's champaran satyagraha against British rule early 2017 and asserted that it is aimed at "realising dreams of Bapu". 
Claiming that Bihar has become a shinning example of prohibition, Kumar said a rally by OBC in Gujarat recently demanded making prohibition more effective like in Bihar in that state where it is in action since its inception.
Leader of Opposition in Bihar Assembly Prem Kumar alleged in Patna that Kumar "is making fun trip on money provided by the NDA government at the Centre for developmental purposes."
(With inputs from PTI)