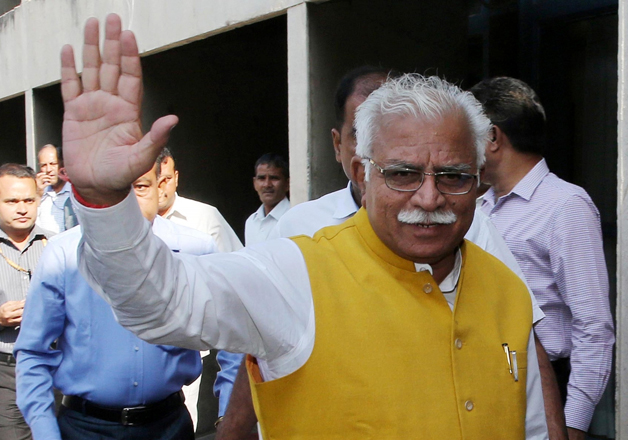 Chandigarh: Haryana government is likely to replace Chief Minister Manohar Lal Khattar's official vehicle Mercedes Benz with a brand new Toyota Land Cruiser worth Rs 1.35 crore.
If reports are to be believed, Khattar, who currently uses Mercedes Benz, faces a 'threat to his life', prompting officials to seek a replacement of the official vehicle he uses to travel in the state. Mercedes Benz, bought in 2007, was used by his predecessor Bhupinder Singh Hooda.
A final decision regarding the purchase of the SUV will, however, be taken by the police, a report said. The bullet-proofing of the car may cost an additional Rs 35 to 40 lakh.
Khattar, who claims to believes in simplicity, even in the corridors of high power, said that he had not made any demand for a luxury car.
"I had not made any demand that I want this car or that one. It was decided by those officials who look after matters related to the CM. They might have thought themselves (about the purchase of the car), but I did not even think about this during the past one-and-a-half years," the CM was quoted as saying in a TOI report.
He further stated that some of the cars are very old and even crossed over 3 lakh kilometres.
"They (officials) said these cars need to be replaced. I will sit in whichever car I get as a replacement," the former RSS Pracharak added in the report.
The Transport department, as per the TOI report, however, said that Toyota Land Cruiser was bought after getting instructions from the government.
A Mercedes costs around Rs 95 lakh. Haryana's Ministers are given cars like Honda CRV and Toyota Camry, which cost in the range of Rs 25-30 lakh.
Having spent a lifetime in ground work at the grass root level, Khattar leads a frugal lifestyle and doesn't have much material demands. But the latest development has surprised many of his associates who say that the CM used to travel in buses, trains and even on scooters.