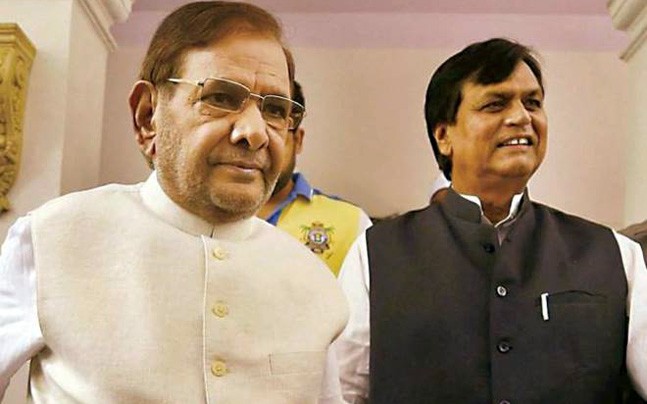 Rebel JD(U) leaders Sharad Yadav and Ali Anwar were on Monday disqualified as Rajya Sabha members.
Rajya Sabha Chairman M Venkaiah Naidu took the decision under the Tenth Schedule Para 2 (a) (i) of the Constitution, while acting on JD(U) chief Nitish Kumar-led JD(U)'s petition seeking their disqualification.
In a Facebook post, part leader RCP Singh Singh said: "Today (Monday) the Chairman Rajya Sabha M. Venkaiah Naidu decided and declared the decision against the petition filed by me against Ali Anwar Ansari and Sharad Yadavji under the 10th schedule of the Constitution of India that the Respondent, Sharad Yadav and Ali Anwar Ansari have incurred disqualification for being a Member of the House in terms of paragraph 2 (1)(a) of the 10th Schedule to the Constitution of India. Both of them have thus ceased to be a Member of the Rajya Sabha with immediate effect. I decide and declare accordingly."
Both MPs had attended an Opposition rally in Patna organised by Lalu Prasad's RJD after JD(U) president and Bihar chief minister Nitish Kumar walked out of the 3-party Grand Alliance and joined hands with the BJP.
JD(U) then wrote to the Rajya Sabha chairman, seeking their disqualification for "anti-party" activities.
The party claimed there were precedents of MPs getting disqualified for anti-party activities. 
Janata Dal (United) chief spokesperson K C Tyagi had cited the example of Tamil Nadu assembly speaker disqualifing 18 AIADMK MLAs from the House and wanted a similar action to be taken against Yadav and Anwar. 
The Grand Alliance which consisted of the JD(U), RJD and Congress, had drubbed the NDA in the last Assembly polls in the state and formed its government.
Yadav and Anwar were among a few elected representatives who denounced Kumar for joining forces with the BJP and forming a coalition government in Bihar which, they said, was against the mandate given by people in the Assembly polls.
More details are awaited.