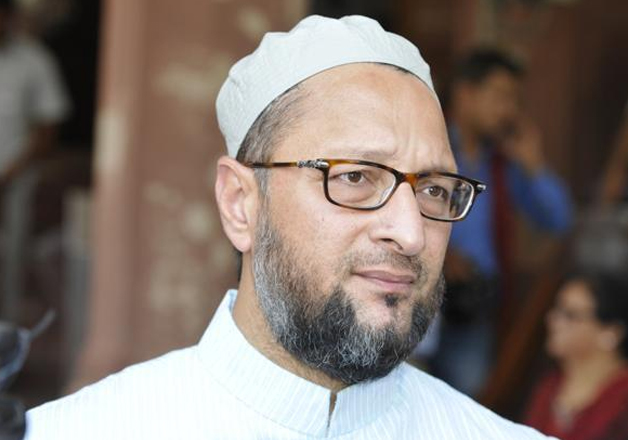 All India Majlis-e-Ittehadul Muslimeen (AIMIM) President Asaduddin Owaisi today accused Prime Minister Narendra Modi of making 'Triple Talaq' and 'Ram temple' the core issues of the BJP campaign to polarise voters ahead of Assembly elections in Uttar Pradesh and four other states.
Owaisi alleged that instead of focusing on constructive issues, the Prime Minister was talking of polarising issues to get votes for the BJP.
He added that since the 'Triple Talaq' issue was already under consideration of the Supreme Court, the Prime Minister should not have spoken on this matter.
"As the matter of triple 'talaq' is pending before the Supreme Court, it would have been in the fitness of things that the Prime Minister had not spoken on it. However, the development clearly shows that the Bharatiya Janata Party and Modi are short of constructive ideas," Owaisi said.
The Lok Sabha member from Hyderabad said he wanted to know why the Prime Minister was not making election issues of governance, corruption and internal fighting in the (Mulayam Singh) Yadav family in Uttar Pradesh.
Advising Modi and his party not to malign Muslims, the All India Majlis-e-Ittehadul Muslimeen (AIMIM) leader wondered as to why the Prime Minister was silent on the fact that compared with Muslims, other religious communities had high rate of divorce and separation.
"The Prime Minister has conveniently forgotten the 2011 Census that shows that over one crore non-Muslim girls aged 10 age or slightly above were married," said Owaisi.
The AIMIM leader said he was ready to show figures that the rate of divorce and separation among Muslims is low compared with other communities.
He said Modi should have also spoken about a letter written by the All India Muslim Personal Law Board to the Uttar Pradesh government for distribution of agricultural land among daughters in Muslim families.
"If you are so worried about Muslim women, why don't you give reservation to the Muslims throughout India?" Owaisi said.
"The country would also like to know why he doesn't talk of justice to (post-Godhra riots victim Congress MP Ehsan Jafri's widow) Zakia Jafri."
The MP claimed the counter-affidavit filed by the Modi government in the Supreme Court on the issue of triple 'talaq' was a joke and a bundle of contradictions.
He said except Turkey, all Muslim countries cited by the government affidavit allowed polygamy.
Agreeing with the government's contention that secularism is the cornerstone of the country, Owaisi sought to know why it was acting to weaken secularism by imposing a beef ban, raising the issue of Ram temple and building Ram Museum in Ayodhya and by denying Muslims of Maharashtra the benefit of reservation despite a High Court order.
(With IANS inputs)