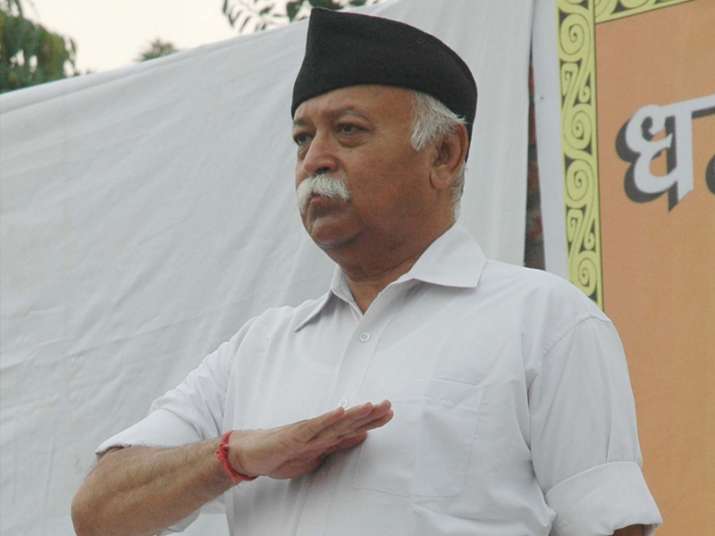 Ruling out speculations of him being in the race for the post of the President of India, Rashtriya Swayamsevak Sangh (RSS) chief Mohan Bhagwat today said that he would prefer to continue working for his organisation -- the ruling BJP's ideological mentor -- and that news doing rounds in the media would never materialise.
At a meeting in Nagpur, the 66-year-old leader said that he will not accept the post of President even if such an offer was made. 
Stating the he will continue his work at the RSS, Bhagwat said, "I read the speculation in newspapers. There is lots of news in newspapers, including entertainment-based items, so I consider it one of them."
"Whatever is being said in the media will not happen," Bhagwat further clarified.
Bhagwat's clarification on the matter is important because a section of media had reported that Bhagwat's name has been proposed for the presidential elections scheduled in July.
The development grabbed eyeballs when Shiv Sena, a key ally of the ruling BJP-led NDA government, through its mouthpiece Saamna, threw its weight behind Bhagwat. 
President Pranab Mukherjee's term is scheduled to end on July 25. He had taken over as the 13th President of India on 25 July 2012. 
After BJP's victory Uttar Pradesh and Uttarakhand and also forming government in Goa Manipur, speculations are rife that the Modi government will look for a fresh face for the country's highest office.  
Meanwhile, the Congress party has said that it did not support Shiv Sena's suggestion of making Bhagwat as the next President as it 'opposed the saffron ideology', adding that the party would come out with its candidate after holding internal discussions. 
"It is very clear that we do not support RSS ideology," Congress spokesperson Gaurav Gogoi told reporters on Tuesday when asked if the party supported the Sena's suggestion.