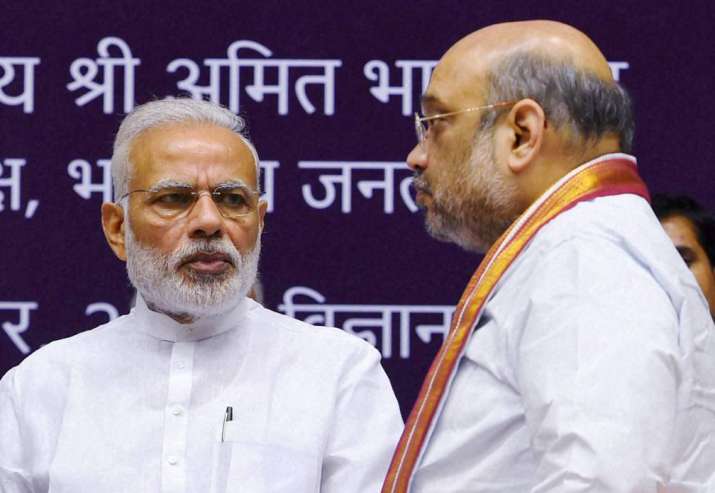 The Bhartiya Janta Party on Monday laid rest to the speculations surrounding its chief ministerial candidate for the Uttar Pradesh Assembly elections saying the party will not project a CM face for the polls which are a few months away. 
"All political parties are waiting for the chief ministerial candidate of BJP...It is clear policy of our party that we will contest the Assembly elections without projecting anyone as our CM candidate," BJP's state unit chief Keshav Prasad Maurya said today.
"BJP had projected CM faces in Assam and Delhi Assembly polls...While we succeeded in the former, we lost the latter ...We fought Haryana and Jharkhand without projecting any CM candidate and won," Maurya said.
He said BJP will win over 300 of the 403 seats in UP and the party's central parliamentary board will decide who has to be the chief minister.
Meanwhile, the BJP has also prepared a roadmap for its campaign in the UP polls with Prime Minister Narendra Modi addressing eight mega rallies in the next two months beginning with Mahoba on October 24.
The saffron will officially kick-start its poll campaign with Parivartan Yatras, which will start from four corners of the state and culminate in a mega rally in Lucknow on December 25, coinciding with former prime minister Atal Bihari Vajpayee's birthday. 
The first rally will start from Saharanpur on November 5, the second from Lalitpur on November 6, the third from Ballia on November 8, while the fourth will start from Sonbhadra on November 9.
BJP president Amit Shah, Union Home Minister Rajnath Singh, veteran leader and union minsiter Kalraj Mishra and UP BJP chief Keshav Prasad Maurya will flag off the four yatras.
The four yatras will cover each of 403 constituencies during 50 days. 
The culminating rally in Lucknow will be addressed by PM Modi.
The BJP has set a target of 265-plus seats for itself.
Earlier in Badaun, Maurya accused BSP chief Mayawati of degrading religious leaders for which, he said, the electorate will teach her a lesson in the coming polls.
Reacting to Mayawati's charges that RSS and BJP workers were presented as Buddhist monks in the 'Dhamma Chetna Yatra' in Kanpur last week, Maurya said, "Her mental balance appears a little disturbed as a large number of her party men have deserted her.
"By making this statement, she has degraded religious leaders and Lord Buddha as well and she will see its result through the EVMs," he said.
To a question as to whether BJP will accept Akhilesh Yadav in its fold if he quits SP, Maurya said no member of the Saifai family has any place in his party. Saifai is the native place of SP supremo Mulayam Singh Yadav.
When his attention was drawn to controversial SP leader Azam Khan facing sediton charges in a Badaun court, Maurya said only BJP government can arrest him in connection with various cases and charges.