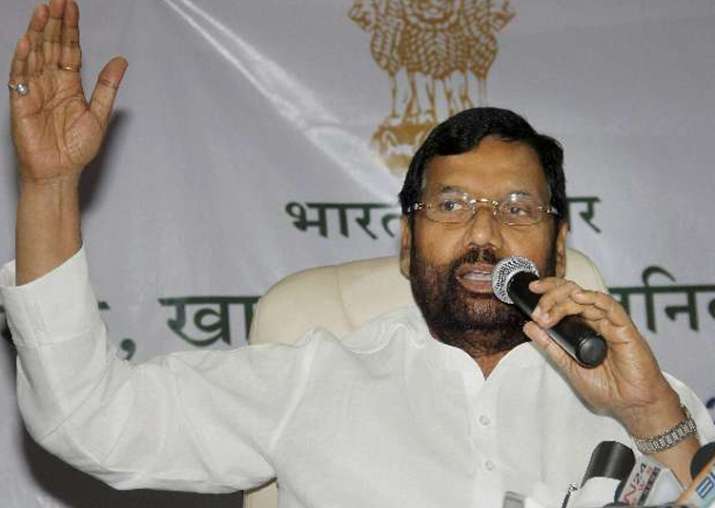 Bihar Chief Minister Nitish Kumar should take a decision on his association with RJD "at the earliest" as Lalu Prasad Yadav can break the JD(U) to form a government of his own, Union minister Ram Vilas Paswan said today.
The ruling alliance in Bihar has taken a hit after Tejashwi Prasad Yadav, deputy chief minister and Lalu Prasad's son, was booked in a graft case. The ruling JD(U) has asked the embattled deputy chief minister to "come out with facts in public against the accusations".
"..I am warning Nitishji that he should take decision on the JD(U)-RJD alliance at the earliest, otherwise Lalu Prasad Yadav is capable of splitting JD(U) and can easily form a government on his own," Paswan said.
The Consumer Affairs, Food and Public Distribution minister alleged that Nitish was delaying his decision by adopting various tactics. "Kumar can not run away from this situation," he said.
"It will be in his (Nitish) interest...in interest of his party and of course Bihar that he take a decision on his association at the earliest," Paswan told reporters here.
Things are getting out of control as there is no governance in Bihar, the Union minister said, adding that the government was running like a lame cat. The Mahagathbandhan (mega alliance between JD(U) and RJD) is not feasible. On one hand, Nitish Kumar presents himself as 'Sushasan babu' (man of good governance), while on the other hand, his ally Lalu Prasad Yadav and family are involved in various scams, Paswan said.
Paswan, the LJP supremo who himself hails from Bihar, was speaking on the sidelines of a party event. His son and president of LJP youth wing, Chirag Paswan, said the government should establish a youth commission on the lines of women commission. He added that he has written a letter to Prime Minister Narendra Modi for the same.