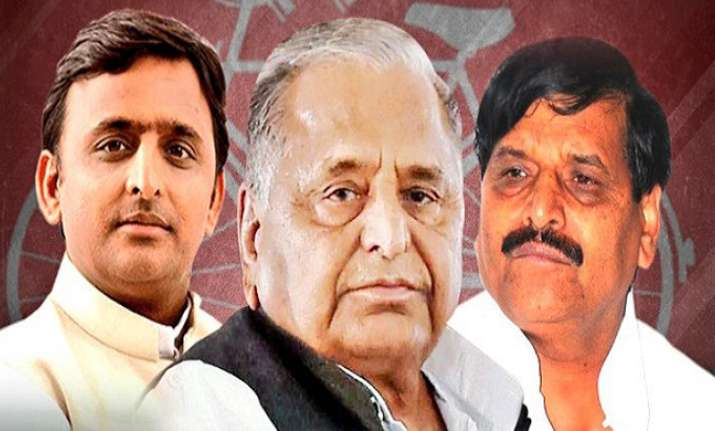 Acrimony, bitter exchanges and personal attacks today marked a meeting of Samajwadi Party leaders, bringing to the fore the high-voltage power struggle in the first family with Akhilesh Yadav and his father Mulayam Singh Yadav trading barbs while the chief minister was accused of planning to float a party, a charge he denied.
Cut up with his son, Mulayam Singh Yadav put up a strong defence of his brother Shivpal Yadav, who was sacked by Akhilesh yesterday from his cabinet, and general Secretary Amar Singh but ruled out replacing the chief minister, who offered to quit.
The political drama was also punctuated by clashes between rival factions outside and inside the venue and after the abrupt end to the meeting of the legislators, MPs and ministers.
Seeking to put at rest speculation, Akhilesh ruled out forming any new party and offered to step down if Mulayam Singh Yadav wanted.
Here are the updates:
* Akhilesh and Shivpal to meet Mulayam again.
* I will consider if I am asked to rejoin, but condition would be that all those who are sacked be brought back: Ramgopal Yadav
* No question of joining any other party, never: Ramgopal Yadav
* Amar Singh and  Shivpal can not come out safe if they speak against me publicly: Ramgopal Yadav
* There is no question of forming a new party. People who have nothing will form new party, Akhilesh has all support: Ram Gopal Yadav
​
#WATCH Ram Gopal Yadav reacts on allegations (of colluding with BJP to tarnish SP's image) levelled against him pic.twitter.com/upDsC9yInw

— ANI UP (@ANINewsUP) October 24, 2016
* No Opposition party has ever levelled any allegations against UP CM but sadly partymen are doing it: Ram Gopal Yadav
* Whatever is happening in Samajwadi Party is very unfortunate: Ramgopal Yadav
* I stand with Akhilesh Yadav, we will again make him Chief Minister: Ramgopal Yadav
* 10 SP workers, who raised slogans against Shivpal Singh Yadav during his speech at the party meeting, have been sacked from the party.
* UP CM had called Ashu Malik to clarify things about the matter in front of few people which was misunderstood by them: Dharmendra Yadav, MP
* The way the story (where UP CM Akhilesh Yadav is referred to as Aurangzeb and SP Chief as Shahjahan) was planted was very unfortunate: Dharmendra Yadav, MP and CM aide 
* UP CM had called me to seek support in a matter which we both knew, this was misunderstood by others: Ashu Malik
* No truth in this story (where UP CM is referred to as Aurangzeb and SP Chief as Shahjahan). Never said this at the behest of anybody: Ashu Malik, MLC 
* Shivpal Yadav reaches Mulayam Singh's residence.
* Akhilesh Yadav reaches Mulayam Singh's residence; both had a heated argument on the stage at SP office earlier in the day.
* Scuffle broke out between Akhilesh Yadav and Shivpal Yadav after the latter snatched mic from chief minister.
Just before the meeting ended abruptly, an enraged Akhilesh party MLC Ashu Malik at the podium accusing him of writing a letter and later leaking it to media to show him in bad light.  
According to Akhilesh's accusations, Malik had written a letter calling Akhilesh Aurangzeb and Mulayam, Shahjahan, which he later leaked to The Times of India, at the behest of Amar Singh.  
"Amar Singh ne mere bare mein likhwaya ki main Aurangzeb hun aur netaji shahjahan hain. Aur Times of India ke front page me lagwaya, Ashu Malik ke zariye (Amar Singh planted a story in the Times of India that I am Aurangzeb and Netaji is Shahjahan. He had it done through Ashu Malik)," CM said.  
An enraged Shivpal then snatched the mike from Akhilesh's hand interrupting his speech and said,"Ye jhut hai, Mukhyamantri jhut bol rahe hain, Mukhyamantri jhut bol rahe hain (All this is a lie, the chief minister is lying."
* Chaos breaks out at Samajwadi Party meeting which ends abruptly amid scenes of acrimony
* Mulayam Singh Yadav also asks Akhilesh to hug Shivpal, says 'he is your uncle'
* Heated argument broke out between Akhilesh Yadav & Mulayam Singh, Mulayam said "Your CM is a liar"
* Mulayam says Akhilesh will not be removed as the chief minister of Uttar Pradesh
* Akhilesh didn't call this meeting. I called it. Reports on SP's performance were not good: Mulayam
* Look at PM Modi, he became PM with dedication & struggle. He comes from a poor family, says he can't leave his mother: Mulayam
* SP chief MSY angered at letter war. Tells CM Akhilesh Yadav, "if you wanted to voice concerns,you should have sent a note."
*  I can't leave Amar Singh or Shivpal Yadav. All of Amar Singh's sins are forgiven.: Mulayam Singh
* Mulayam Singh Yadav comes out in support of RS MP Amar Singh. Says, "He helped us in difficult times.
* Hum Amar Singh ka saath nahi chhor saktey, nahi chhor saktey. Usne humey bachaya.: Mulayam
* Shivpal has worked for the masses. He is the leader of masses: Mulayam Singh Yadav
​* Drunkards, goons have been added to the party. You get some power and it goes to your head. Shivpal Yadav is leader of the masses: Mulayam
​* If you can't face criticism, you can't be a leader: Mulayam Yadav
* I am not a weak person, even to this day. Do not think that the youth is not with me: Mulayam Singh Yadav
* I gave the tickets to youth, no one else did: Mulayam Singh Yadav
* We have worked really hard to form this party: Mulayam Singh Yadav
* Some ministers are just busy being sycophants. And people who can't think big can't be a minister:  Mulayam Singh Yadav
* Jo bahut ucchal rahein hai agar baat aayi to ek laathi bhi nahin seh paaenge: Mulayam Singh Yadav
* Instead of fighting our weaknesses we are fighting amongst ourselves: Mulayam Singh Yadav
* I feel really sad because of this rift in our family: Mulayam Singh Yadav
* We can not tolerate liars in SP, we just can't: Shivpal Yadav
* Shivpal Yadav asks Netajee to suspend the revolting faction in the party.
* Shivpal Yadav lists his contribution to SP. "I called MLAs & Ajit Singh to ensure RS & MLCs won.CM didn't make any calls" 
* Shivpal Yadav says, "Amar Singh Ke pairon ki to dhool bhi nahi ho tum log." I never hid and met Singh. I remained in touch
* Akhilesh Yadav had said to me that he will form another party, he said it, he said it to me: Shivpal Yadav
​* Everyone in SP needs to dedicate themselves to winning the 2017 UP elections: Shivpal Yadav
* We all have contributed to the party, didn't oppose Netaji's decisions: Shivpal Yadav
* Shivpal Yadav gets emotional, says, "Mera kya Dosh? Maine CM ki bhi baat maani, Netaji ki bhi maani." 
* Have I worked less than Akhilesh Yadav?: Shivpal Yadav
* Indiscipline will not be tolerated in this party. This party has reached such heights only because of Netaji: Shivpal Yadav
* If there is any conspiracy against the party i will take action: Akhilesh Yadav
​* I was hurt when Amar Singh said that by November Akhilesh will not be CM in UP. Ramgopal ji didnt say that
* People are saying a new party will be formed. Who is forming is a new party? I am not: Akhilesh Yadav
​* UP CM Akhilesh Yadav breaks down while giving a speech at SP office in Lucknow
* People may raise finger at me. But I have been true to Netaji's ideals: Akhilesh Yadav
​* CM Akhilesh Yadav names minister Gayatri Prajapati, bureaucrat Deepak Singhal and explains why he removed them
* I was deeply hurt when I heard from others that you wanted to remove me. This is your party. I have no stakes: Akhilesh Yadav
* If Netaji asked me for resignation I would have given it: Akhilesh Yadav
​*  Mera kuch bhi nahi hai party mein. Main netaji ka beta hoon.Akhilesh Yadav
Meanwhile, just before the meet, Akhilesh Yadav's supporters clashed with the supporters of Shivpal Yadav forcing Police to separate the warring sides.
Hundreds of workers have gathered outside the party office with both factions shouting slogans against each other. Many were seen trying to enter the premises but were pushed back by a ring of policemen.
On Sunday, Akhilesh sacked Shivpal, his uncle and party's state unit chief, along with three other "pro-Amar Singh" ministers from his Cabinet, his father hit back by dismissing Ram Gopal, pro-CM cousin and SP's national general secretary, from the party for six years.
"Ramgopal is doing this to save his son in the Yadav Singh scam and the CM (is) not realising as to who his real well-wisher is. Ramgopal has always conspired and misled Akhilesh," Shivpal said, referring to a tainted chief engineer of Noida authority, a charge denied by Ramgopal.
Ram Gopal, who wrote to the SP chief on Saturday, had sought to caution his cousin that he (Mulayam) would be held responsible if the party was defeated in the 2017 assembly polls. He also said that Akhilesh was "undoubtedly the most popular leader of SP" and must be made the party's CM face in order to win next year's elections.
"Akhilesh did not defend me. He did not take any action," a source quoted Mulayam as saying. "Ram Gopal Yadav himself wanted to be CM. But I opposed everyone to ensure that Akhilesh became the CM," Mulayam is believed to have added.
For the second time in the last month, Akhilesh, the 43-year-old Chief Minister, fired uncle Shivpal Yadav as a minister, prompting the thae later to say that he will not be a part of Akhilesh Yadav government anymore.
The 43-year-old Chief Minister's exercise of authority is a direct retort to his father, Mulayam Singh Yadav, who leads the Samajwadi Party and has been promoting Shivpal over his son.
Mulayam, who remained silent during the day, told reporters in the evening that "Whatever I have to say, I will say tomorrow."