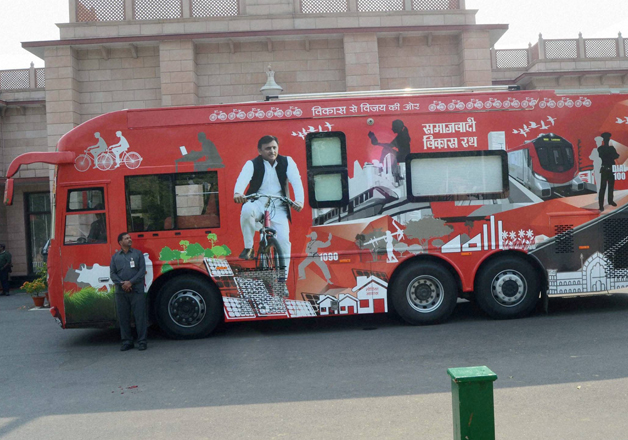 The highly-publicised 'Vikas Rath Yatra' of Uttar Pradesh CM Akhilesh Yadav was hit by a technical glitch within half an hour of its start resulting in a huge embarrassment for the ruling party. 
While the repairing work of the hi-tech bus, customized by Mercedes, was underway, the CM opted to take a private vehicle to move ahead. His wife and children who were also aboard the bus have returned to the CM residence, less than a kilometre from where the bus broke down.  
The glitch has resulted in a huge traffic pile stretching for about two-three km on the road where the glitch happened, leaving several people stranded on their way.
"We have been standing here for the past two hours. The doctor had given us time. I don't know if my mother can get operated today," said a man who was on his way to the doctor get his mother's eyes operated. "They should have made arrangements for another route," he added.  
The bus started from city's famous La Martinier School and was heading towards Unnao. On the first day of the tour, the CM will cover 60 km. 
Speaking to media after the launch of yatra, AKhilesh expressed confidence that people will vote for the Samajwadi Party in next year's assembly polls.
"In coming times I am sure that farmers, youth, everyone will support us for all the development that SP brings," he said.
His wife and Lok Sabha MP from Kannauj, Dimple Yadav, termed the yatra historic and said that SP will retain power in 2017 polls.
"This will be a historic beginning, we can see so much youth force. We are very positive about the elections," she said.
Earlier this morning, the Samajwadi Party supremo Mulayam Singh Yadav today flagged off his son and CM Akhilesh's 'Vikas Rath Yatra' from here. 
Addressing a huge gathering of party workers at city's famous La Martinier School, Akhilesh said that the 'tradition' of yatras was started in the state by 'netaji' and that he was taking it out for the third time.
"I want to thank youths for this historic event. Netaji had taken out yatra and I am going on for the yatra of the third time. From this yatra, we appeal to people to vote in favour of our party," he said.
Mentioning the delay in the yatra by about a month, Akhilesh said, "We had to take out the yatra on October 3, but due to certain circumstances, we could not do it. Now, we will try to reach maximum people through the yatra." 
"Elections are round the corner and there will be comparison of works done by government. SP government has continuously focused on development without discrimination on basis of caste. This election is decisive in changing politics of the country and SP will form government again in 2017. In future (after 2017) also, only SP and its socialist ideology can bring a change in the country," the CM said. 
Highlighting his government's works, Akhilesh said his government tried to strike a "balance" in development. 
"While we constructed metro, we also thought of cycle. We made expressway but also connected district headquarters by roads...Our schemes of Samajwadi Pension, laptop distribution and Lohia Awas Yojana have benefited people," he said. 
On recent controversy within the party and family, Akhilesh said, "Due to some conspiracies we were bit rattled up, but in the days to come we will be able to form government again." 
Shivpal attends event
Mulayam's younger brother and the party's UP unit chief Shivpal Yadav accompanied him for the flag-off. 
Shivpal, who has been engaged in a bitter power tussle with his nephew CM, lauded his development works and appealed people to vote for the Samajwadi Party in the upcoming Assemly polls.
"Akhilesh ko hum shubhkamna detey hain (I wish him well)," Shivpal said, adding the "vikas sey vijay ki aur yatra" will send a message of unity across the state and halt BJP in its tracks. 
"Our target is to prevent BJP from coming to power in the state in the crucial 2017 elections," he further said. 
Akhilesh (43), during his yatra, will propagate his works and seek people support for his bid for a second term.
Ahead of the flag off event, Ramgopal Yadav's son and MP Akshay Yadav said, "People will vote for Akhilesh. We will contest in his name and win." 
The presence of Mulayam, Shivpal and Akhilesh on one platform came days and months after bitter acrimony in the Yadav clan that saw no holds barred tit-for-tat sackings and expulsions of followers of warring camps. 
Assembly Speaker Mata Prasad Pandey, SP vice president Kironmoy Nanda, Naresh Agarwal, MP Dharmendra Yadav and ministers Rajendra Chowdhury, Manoj Kumar Pandey, Narendra Verma, Balwant Singh Ramoowalia, Balram Yadav, Parasnath Yadav, Vinod Kumar alias Pandit Singh, Rammurti Verma, Raghuraj Pratap Singh alias Raja Bhaiya and Arvind Singh Gope besides a number of sacked youth leaders were present. 
MLC Sunil Yadav Sajan, who is also in charge of first leg of the yatra, said at every second kilometre, the CM will be welcomed and he will also address gatherings at various locations. Last month, Shivpal had expelled Sajan, considered close o Akhilesh, from the party. 
About 'Samajwadi Vikas Rath' 
A luxury bus has been customized as a 'Rath' equipped with a hydraulic platform, which could be launched aloft to enable the Chief Minister address public meetings. The hi-tech bus is predominantly hued in red colour of SP. It comprises a mini CM office, kitchen and a lavatory to allow the occupant officiate from it comfortably. 
A life size image of Akhilesh riding a bicycle also adorns its exterior. The bus is equipped with Wi-Fi connection, while Akhilesh would also be able to keep track of the latest news on a large TV screen.
The supporters of both Akhilesh and Shivpal factions are keeping an eye on the development and the entire route of yatra is dotted with hoardings, banners and colourful arches to welcome the 'Vikas Sey Vijay Tak' rath yatra.
Meanwhile, ugly scenes were witnessed at the venue of SP's function as party workers clashed with each other just before the start of the tour. Several party workers have been reported to sustain injuries during the scuffle. 
Uttar Pradesh will go to polls early next year.