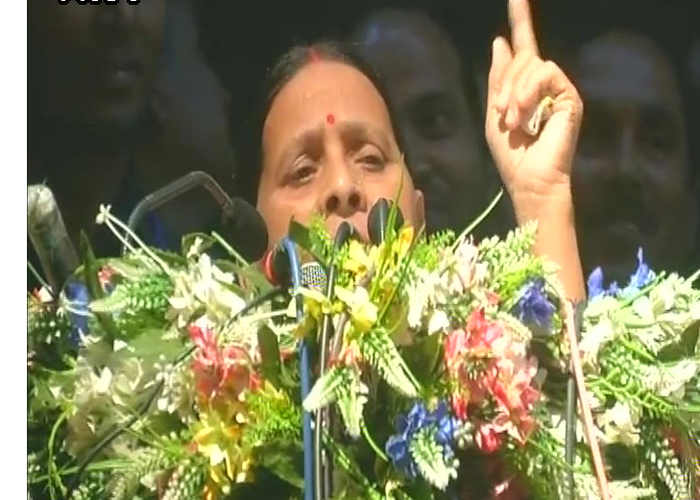 A day after BJP's Bihar chief Nityanand Rai said that fingers and hands raised against PM Narendra Modi will be broken and chopped off, former Bihar chief minister Rabri Devi has hit back at the Bharatiya Janata Party (BJP) by saying that people in her state are ready to 'slit prime minister's throat and chop off his hands'.
"They say fingers of those accusing Narendra Modi will be chopped off. Do so and no one in the country will stay quiet. Will the people of Bihar not say anything? There are many people here who are ready to slit PM Modi's throat and chop off his hand," Rabri Devi said.
Wo log kehte hain, Narendra Modi pe ungli uthayenge to ungli tod denge, haath kaat denge. Kaat ke dhikao. Pure desh ke log, Bihar ke log kya chup baithe rahenge? Yahan Modi ka haath kaatne waale, gala kaatne wale bohot log khade hain: Former Bihar CM Rabri Devi pic.twitter.com/bquBpnoIgP

— ANI (@ANI) November 22, 2017
BJP's Bihar chief Nityanand Rai, who earlier asked his party supporters to chop off the fingers and hands of people who voice criticism against Prime Minister Narendra Modi, had later defended himself by saying that he didn't meant to break hands literally and it was used as a metaphor.
#WATCH: Many in Bihar ready to slit PM's throat and chop his hand, says Former Bihar Chief Minister Rabri Devi (21.11.17) pic.twitter.com/nTbOe7jC6f

— ANI (@ANI) November 22, 2017
"Your own son rose out of poverty to become PM, regardless of differences everyone in the country should value it. If any hand or finger is raised against him (Modi), we should come together & break it & if need be even chop it off," Nityanand Rai had said.