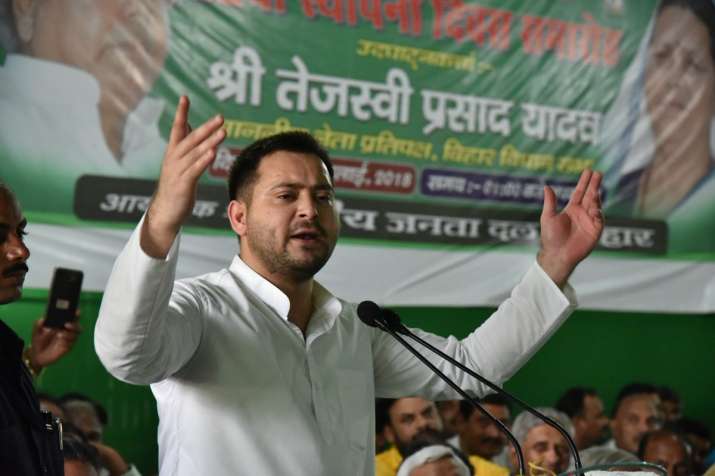 Lok Sabha elections 2019: Coming out all guns blazing against Bihar Chief Minister Nitish Kumar, Rashtriya Janata Dal (RJD) leader and younger son of Lalu Prasad Yadav, Tejashwi Yadav on Thursday said his party will support the Janata Dal-United (JD-U) in Bihar if CM retires from active politics.
Tejashwi Yadav, the Leader of Opposition in the Bihar Assembly, also reiterated that RJD will not allow Nitish Kumar's return to the Grand Alliance ahead of the 2019 Lok Sabha polls.
[You may also like to read] Monday Talk | 'Outsiders' in party need to be purified from 'Ganga Jal': BJP MP Shyama Charan Gupta 
"If Nitish uncle retires, we will support JD-U," Tejashwi said at a function to mark the 22nd foundation day of RJD that was celebrated without his father and party chief Lalu Prasad here. 
Catch all the latest news about Indian politics HERE
Tejashwi Yadav taunted Nitish Kumar, saying he has been suffering from "political fever" -- in reference to reports that the Chief Minister was not well. 
"We do not want, at any condition, to see Nitish Kumar in Grand Alliance. If he joins the Grand Alliance again, then Tejashwi will be called greedy. How can we offer membership to those who insulted the mandate of the people? We will not allow his entry into the Grand Alliance," Tejashwi Yadav said. 
Catch all the latest news about Lok Sabha elections 2019 HERE
He said RJD had no greed for power. 
Last week, Tejashwi Yadav categorically said that the doors of the Grand Alliance were closed for Nitish Kumar. 
He, however, said that the Grand Alliance, which also includes the Congress, was ready to welcome BJP ally Rashtriya Lok Samta Party (RLSP) chief and Union Minister Upendra Kushwaha. "We will welcome his (Kushwaha) entry into Grand Alliance." 
It was widely speculated that senior Congress leader Shakti Singh Gohil, who is party in-charge for Bihar, had asked Nitish Kumar to rejoin the Grand Alliance. 
Hindustani Awam Morcha (HAM) chief and former Chief Minister Jitan Ram Manjhi also extended an invitation to Nitish Kumar on the condition that Tejashwi Yadav would be the Chief Ministerial candidate in the 2020 Bihar Assembly polls. 
Senior Nationalist Congress Party (NCP) leader Tarique Anwar has also ruled out inviting Nitish Kumar to the Grand Alliance. 
The Grand Alliance comprises the Congress, NCP, RJD and HAM. 
Last July, Nitish Kumar -- also the JD-U president -- joined hands with the BJP and formed the government in the state after dumping the Congress and the RJD. 
In the 2015 Bihar Assembly polls, the Grand Alliance of JD-U, RJD and Congress had defeated the BJP-led NDA. 
At the beginning of the function, Lalu Prasad Yadav's elder son Tej Pratap Yadav felicitated younger brother Tejashwi Yadav with a 'mukut' (crown).
#WATCH Tej Pratap Yadav felicitates younger brother Tejashwi with a 'mukut' at RJD foundation day event in Patna pic.twitter.com/hCRW6ny4LF

— ANI (@ANI) July 5, 2018
(With inputs from agencies)