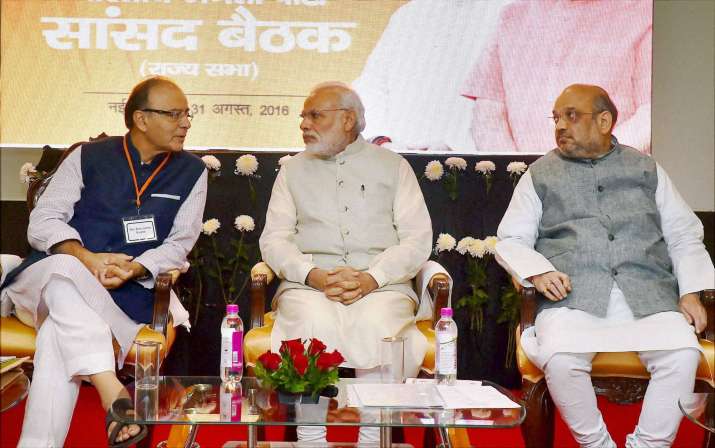 The Bhartiya Janata Party has already started its preparations for next general elections as party chief Amit Shah on Wednesday asked the party's Rajya Sabha members to adopt one Lok Sabha seat each where it had lost the last polls and nurse it like its representative in Parliament would with the purpose of ensuring the victory of its candidates in the 2019 elections.
The directions were given in a meeting attended by BJP's all 52 Rajya Sabha MPs.
Today's meeting followed two major interactions Shah and Prime Minister Narendra Modi had with BJP chief ministers and top party leaders from states who were asked to work overtime to make the government's 'pro-poor' policies a success, expand the organisation and its ideological influence.
Briefing the media about what transpired in the meeting, Union Minister Prakash Javadekar said, "Amit Shah asked the Rajya Sabha members to adopt one Lok Sabha constituency where the party had lost in 2014 and nurse it as if they are the Lok Sabha members from there. It will help party win from there. He asked them to spend their MPLAD fund there and work in expanding the organisation."
"He said Rajya Sabha members should also work to spread the party's base and ideology," Javadekar added. 
While the party has constantly pushed its Lok Sabha members to work on its developmental and organisational agenda, there has been a feeling that the Rajya Sabha members, many of whom have little stake in electoral politics, have not been involved much in the exercise.
Javadekar said the Rajya Sabha members, who include a number of top ministers including Arun Jaitley, M Venkaiah Naidu, Manohar Parrikar, besides Javadekar himself, will adopt a constituency in the state they represent in the House.
Asked what RS members from states like Gujarat and Rajasthan, where BJP had won all the Lok Sabha seats, will do, he said the party will find a way for utilising their services. These members would coordinate with the state unit and the government in states where BJP is in power to adopt a constituency.
"They have to work, campaign as if they are the Lok Sabha members from there. They have to take up party programmes and developmental schemes like Lower House members. They should make up for the party not having its MP from there," Shah said.
Asked if the party will field them in the Lok Sabha polls if they worked well, Javadekar avoided a direct reply, only saying the BJP believes in a 'constant evaluation process'. The best candidate from there will be given ticket and the work by these Rajya Sabha members will stand them in good stead.
(With PTI inputs)