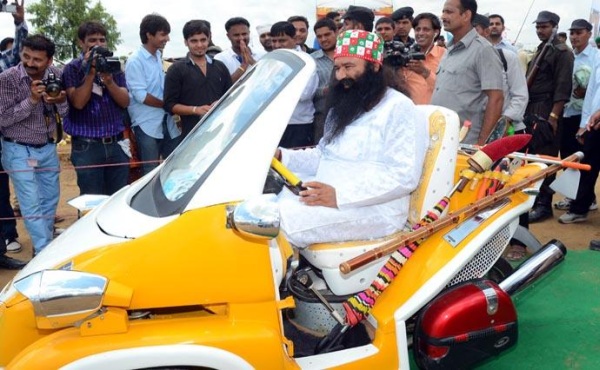 Haryana Health and Sports minister Anil Vij has invited controversy by donating Rs 50 lakh of taxpayers' money to Dera Sacha Sauda, a religious sect led by Gurmeet Ram Rahim Singh (of MSG fame), for what he claimed will be used to promote rural sports. The money, said the Dera chief and the self-proclaimed godman, will be used to train players in all Olympic sports.  
Vij, who was in the news for his visit to Rio to cheer for Haryana athletes that cost the state exchequer a whopping Rs 1 crore, announced a donation of Rs 50 lakh to Dera Sacha Sauda yesterday while witnessing a sporting event where Dera chief Gurmeet Ram Rahim Singh was also present. The Dera Sacha Sauda has been a supporter of the BJP.
"It is a very good thing. Along with religion, education and games are there, that means they are trying to prepare a complete human being," Vij said while attending the event which also saw the presentation of "Tiranga Rumaal Chu", a unique blend of kabaddi, kho kho and wrestling that the Dera chief has created.
"He is encouraging the games. Since the schools are also encouraging games here, I would like to donate Rs 50 lakh from my discretionary fund," Vij said. 
Notably, all the games played at the Dera academy have been created by Gurmeet Ram Rahim himself and are not played at national or international level. 
Reacting to the Vij's action, Congress' chief spokesperson Randeep Surjewala today said, "I haven't seen all angles of this story. All political parties are on the side of money being donated to encourage sports. Anil Vij has to consider his decision about attachment to people. 
"He is in a responsible political and constitutional position. He has to take a decision about this behaviour. If he doesn't take any decision then people of Haryana will have to act." 
Vij said, "Dera Sacha Sauda is already promoting sports for a long time and now BJP government will promote all sports related activities by making 20 Olympic Nurseries. In each Haryana district about 400 Nurseries (subsidiaries) will be set up", he said. 
"These Nurseries will provide many athletes for next Olympics," he added.
Gurmit Ram Rahim, the godman also pegged as the 'King of Bling' for his shiny outfits and riding Harleys, is also a so-called movie star. He has starred in a film called MSG, "Messenger of God" and its sequel where he portrays nothing short of a rockstar image. The films generated huge controversy for the God-like depiction of the Dera leader.  
(With PTI inputs)