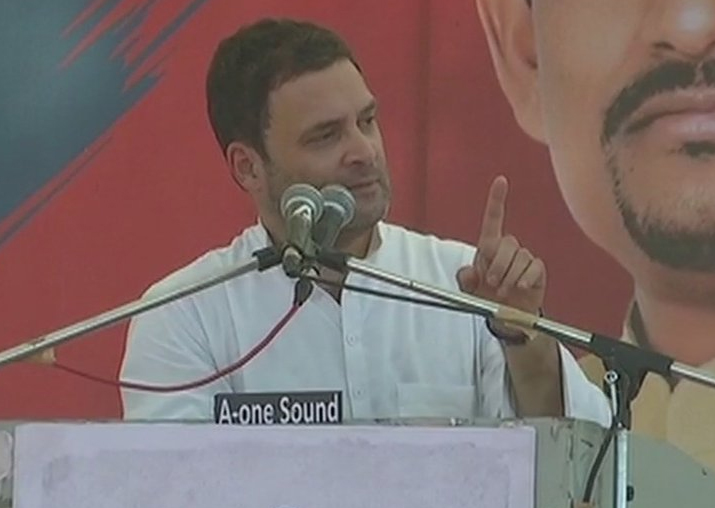 Congress vice president Rahul Gandhi today began his three-day visit to poll-bound Gujarat on Monday as the grand old party prepares to take on the Bharatiya Janata Party which has ruled the state for 22 years. During his visit, Rahul took part in the 'Navsarjan Gujarat Janadesh' rally in Gandhinagar.
Yesterday, Congress had extended an invitation to Patel quota agitation leader Hardik Patel and Dalit leader Jignesh Mevani to meet the Gandhi scion.
Congress' invite to Hardik Patel and Mevani comes a day after its state unit president Bharatsinh Solanki extended open invitation to Patel, Mevani and Thakor to join the party to ensure the ruling BJP's defeat. Rahul is also likely to meet Chotu Vasava, the leader of Janata Dal (U) in Gujarat, during his one-day visit.
Highlights: 
4:12pm: Rahul Gandhi dubs GST as "gabbar singh tax"
4:09pm: Rahul Gandih attacks government over demonetisation and GST, says its beyond the understandings of renowned economists
4pm: Rahul Gandhi attacks PM Modi over business of Amit Shah's son Jay. "The whole nation wants to know what Modiji has to say about Amit Shah's son Jay Shah"
3:56pm: The Rs 35,000 crore spent for Nano project could have taken care of loans of Gujarat farmers
3:53pm: People in Gujarat turned away from private hospitals as they cannot afford the costly treatment
3:52pm: Gujarat is priceless and can never be bought, says Rahul on Patidar leader Narendra Patel's allegation that he was offered Rs 1 crore to join the BJP
3:50pm: When you click a selfie and click that button, every time a Chinese youth gets employment
3:48pm: I want to tell Modiji Gujarat's 'Mann Ki Baat'. Gujarat's youth want education. But in last 22 years, you have put every college and university in the hands of 5-10 industrialists
3:47pm: There are 30 lakh unemployed youth in Gujarat. Daily 30,000 new youth from all sections of the society search jobs.
3:46pm: Hardik (Patel), Jignesh (Mevani) have a voice in their heart and that voice is inside all Gujaratis
3:45pm: Rahul Gandhi attacks government over unemployment, says "govt's duty is to generate jobs".
3:44pm: 6.5 crore people (in Gujarat) are on the roads demanding their rights. Every section of Gujarat's society is part of a movement, because since last 22-years govt was not of people but of 5-10 industrialists.
Gujarat: Congress Vice President Rahul Gandhi at 'Navsarjan Janadesh Mahasammelan' in Gandhinagar. pic.twitter.com/KRG1mvzeUF

— ANI (@ANI) October 23, 2017
01:00 pm: 
Congress Vice President Rahul Gandhi arrives in Gujarat's Ahmedabad, to take part in OBC 'Navsarjan Janadesh Mahasammelan' pic.twitter.com/pkoEdq4g3N

— ANI (@ANI) October 23, 2017
12:30 pm: Gujarat Congress president Bharatsinh Solanki says meeting between Rahul Gandhi, Patidar leader Hardik Patel and Dalit leader Jignesh Mewani has been postponed. The meeting might happen when Gandhi visits Gujarat again (November 1-3).
The Congress, which is out of power in Gujarat for 22 years, is wooing leaders such as Hardik Patel, Mevani and Thakor who have significant support base in their respective communities.
Ahead of the start of his visit, Gandhi tweeted: "Gujarat is priceless. It has never been bought. It can never be bought. It will never be bought."
Rahul was apparently referring to the allegations of Narendra Patel, a leader of the influential Patidar community, who claimed the ruling BJP offered him Rs 1 crore to join the party. 
Patel also claimed that was given Rs 10 lakh advance on Sunday itself and was promised that the remaining Rs 90 lakh will be given to him on Monday.
The bribery claims by Patel against the BJP came hours after he announced on Sunday evening that he was joining the saffron party.
Patel, however, flipped sides and alleged that he had been offered Rs 1 crore by the BJP through Varun Patel who had recently switched over to the saffron fold.
Meanwhile, in another blow to the BJP, another Patidar leader Nikhil Sawani also resigned from the BJP, and announced re-joining hands with PAAS chief Hardik Patel. 
Rahul visit to the poll-bound state comes a day after Prime Minister Narendra Modi attacked the UPA government of an 'anti-Gujarat, anti-development attitude' in his address at a public meeting in Bhavnagar after inaugurating a slew of projects.