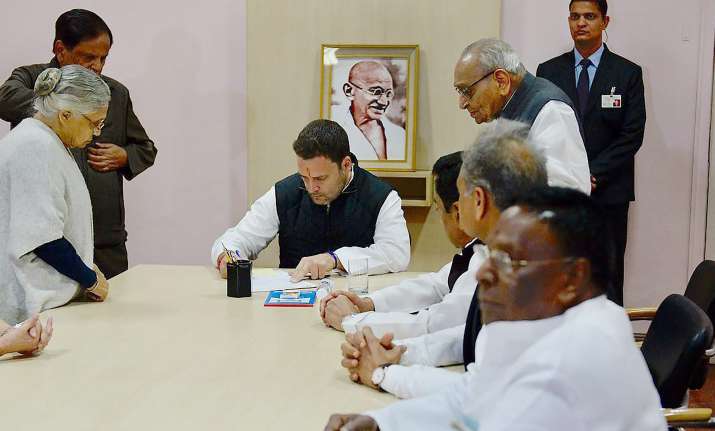 Congress vice president Rahul Gandhi today filed his nomination papers for the election to the Congress president's post. He was accompanied by a host of senior leaders including incumbent party president Sonia Gandhi and former Prime Minister Manmohan Singh.
Rahul Gandhi is likely to emerge as the lone candidate in the fray and decks have been cleared for his elevation as Congress president, drawing to close his mother Sonia Gandhi's 19-year run as the party chief, the longest ever in the party's history.
Rahul Gandhi filed four sets of nomination papers. Senior party leaders Sonia Gandhi, Manmohan Singh, Ghulam Nabi Azad, A K Antony and Ahmed Patel and party chief ministers will propose his name.
"So far 90 nomination forms have been given out to state unit delegates. No application for nomination has been submitted so far and tomorrow is the last date for filing nominations," he told PTI on Sunday.
Here are the LIVE Updates of Rahul Gandhi filing his nomination as Congress President:
01:15 PM: Uttar Pradesh Chief Minister Yogi Adityanath reacts to Rahul's elevation, says Congress decimation now certain.
Congress has become a burden on this nation, now would be good if after Rahul ji's elevation once and for all this burden is removed: UP CM Yogi Adityanath pic.twitter.com/3Jl9vCz0As

— ANI UP (@ANINewsUP) December 4, 2017
01:00 pm: He (Rahul Gandhi) is the owner of the party. His elevation & nomination are their personal matter. They are forced to make this arrangement (election) because of the regulations of EC. However, no democracy is left inside such a big party: Union Minister Dharmendra Pradhan
12:36 pm: "I congratulate Rahul Gandhi for his promotion without performance. (This) can only be possible in a feudal setup": Mukhtar Abbas Naqvi, Union minister
12:00 pm: "If anyone wants to participate in elections he or she is free to do so, it is going on in a democratic manner. PM has no business to comment on Congress's internal matter," says Karnataka CM Siddaramaiah
11:35 am: Shehzad Poonwalla claims Congress going to field dummy candidate for party president's post.

Mere sources mujhe bata rahe hain ki darbariyon mein baat chal rahi hai ki ek dummy candidate utara jaye taake ye election lage, lekin ab logon ki aankhon mein dhool nahi jhonk sakte: #ShehzadPoonawalla on #RahulGandhi 's nomination pic.twitter.com/9wpJB1t4IN

— ANI (@ANI) December 4, 2017
11:25 am: Rahul Gandhi is a darling of the Congress and he will carry forward the great traditions of the party: Dr.Manmohan Singh
11:15 am: Siddaramaiah greets Rahul Gandhi

Karnataka CM Siddaramaiah meets Congress Vice-president Rahul Gandhi at AICC HQ pic.twitter.com/0WIYBpo6LH

— ANI (@ANI) December 4, 2017
10:55 am: Senior party leaders including Kamal Nath, Sheila Dikshit, Motilal Vora and Tarun Gogoi file first set of nominations (as proposers) for Rahul Gandhi.
10:50 am: If you ask me, I think he will make a very good Prime Minister: Capt.Amarinder Singh,Punjab CM on Rahul Gandhi
10:45 am: Rahul Gandhi files nomination for Congress president's post at party headquarters in New Delhi. 

Delhi: Rahul Gandhi with senior party leaders Mohsina Kidwai and Sheila Dikshit after filing nomination for Congress President pic.twitter.com/bxVrQRkM9S

— ANI (@ANI) December 4, 2017
10:41 am: Congress vice president Rahul Gandhi reaches party headquarters to file nomination papers for president's post. He is accompanied by Sonia Gandhi and Manmohan Singh as proposers.
Delhi: Rahul Gandhi at AICC HQ,files nomination for Congress President pic.twitter.com/QUHFFtHNXb

— ANI (@ANI) December 4, 2017
10:35 am: "Do BJP presidents get elected? Did Nitin Gadkari get elected through a ballot process? Let them answer that first," says Congress leader Kamal Nath.
10:33 am: "Sonia ji took Congress to new heights, we won many elections under her leadership and now it is time for Rahul Gandhi to take the party forward": Dr. Karan Singh, Congress.
10:30 am: 
Delhi: Congress workers and leaders enter AICC HQ ahead of Rahul Gandhi filing nomination for Congress President pic.twitter.com/5AMUqp4PaH

— ANI (@ANI) December 4, 2017
10:25 am: "Nobody knew of him (Shehzad Poonawalla) before his outburst. Who knew who he was? Anybody who wishes to contest is free to come and file the nomination papers. He is also free to do so," Mani Shankar Aiyar tells India TV 
10:17: Rahul Gandhi reaches former PM Manmohan Singh's residence to meet him. He is also expected to pay a visit to former President Pranab Mukherjee. 
10:15 am: The formal process of Rahul Gandhi's nomination is set to begin at 11.00 am and will take a few hours to conclude. The announcement of Rahul's name as Congress president may come today itself, provided nobody else files his nomination to the contest as party president. 
10:10 am: Rahul Gandhi leaves for Rajghat. He is expected to arrive at the party headquarters at 11.30 am to file his nomination papers. As many as 90 nominations to his name as Congress president have been received by the party's election authorities. Rahul will sign each of them.   
10:05 am: As per party sources, Rahul will first visit the Rajghat and then head to the party office at 24, Akbar Road where the nomination process will get underway. 
10:00 am: Congress vice president Rahul Gandhi is currently at his mother and incumbent Congress president Sonia Gandhi's residence
Meanwhile, the controversy surrounding Rahul's elevation to the post continues to abate, with Congress leader Shehzad Poonawalla launching a fierce critique of the party's internal poll process. Rahul's imminent elevation to the party chief's post was a coronation and not an election by any leans, said Poonawalla, sharpening his attack on Rahul's unopposed election to the post.
Poonawalla had earlier termed the entire poll process 'rigged' and has released a series of audio tapes to assert that other Congress leaders too agreed with his contention. On Sunday, Shehzad released a set of tapes allegedly featuring Congress leaders Manish Tewari and Acharya Pramod Krishnam. While Tewari is a former Union minister, Krishnam is a COngress leader from Sambhal.
Tewari is heard in the tapes suggesting to Pooawalla that he should shun the idealism that he is talking about if he wants to get ahead in the Congress. "Congress is a proprietorship and not a political party. No party is," a voice Poonawalla claims as that of Tewari is heard saying on the tapes released by Poonawalla. 
Krishnam, on the other hand, is heard agreeing to Poonawalla on the need for establishing a basis of merit for election to such top posts. While Krishnam has agreed that the voice is indeed his, Tewari is yet to respond.
India TV has not verified the authenticity of the tapes independently.      
Continuing his tirade against the Congress leadership, Poonwala said on Sunday that party had "no place for Shehzad (himself), but for shehzada (Rahul Gandhi)."
"I have been trying to raise the most important issue of dynastic politics and fair opportunity to the non-dynasts within the party for the past six to eight years. I also wrote to Rahul ji on this. Instead of answering my claims about delegates being fixed and one family one ticket rule - they are making baseless allegations against me that I am a BJP agent. I have to become a whistle-blower. I am not spineless like the other Congress leaders," said Poonawalla.
"Main Shehzad hoon, shehzada nahin. They don't have a place for me," he added.
Poonawalla further accused the Gandhi scion's office of insulting him.
"Today morning, I called Rahul Gandhi's office to ask him for his time so I could give him the proof that it was a rigged election before he files nomination tomorrow. I thought he has some morality takes the right decision by stopping the process, but his office insulted me," he said.
Poonawalla further said Manish Tiwari, who is also the party spokesperson, had opposed his going public with his criticism of the party. Another senior leader, Sandeep Dikshit, the son of three-time Delhi Chief Minister Sheila Dikshit, had admitted that such things happen, he said.
He also equated his treatment at the hands of the Congress to the what he called, the insult of Sardar Patel by the then Congress leadership.
On Sunday, Shehzad's tirade against the Congress VP earned him the praise of Prime Minister Narendra Modi.   
"A youngster Shehzad has exposed the rigging that is taking place in the Congress president poll. And Shehzad is a senior Congress leader in Maharashtra. The Congress Party has tried to muzzle his voice and wants to even remove him from their social media groups. What tolerance is this!" PM Modi said while addressing a rally in poll-bound Gujarat.