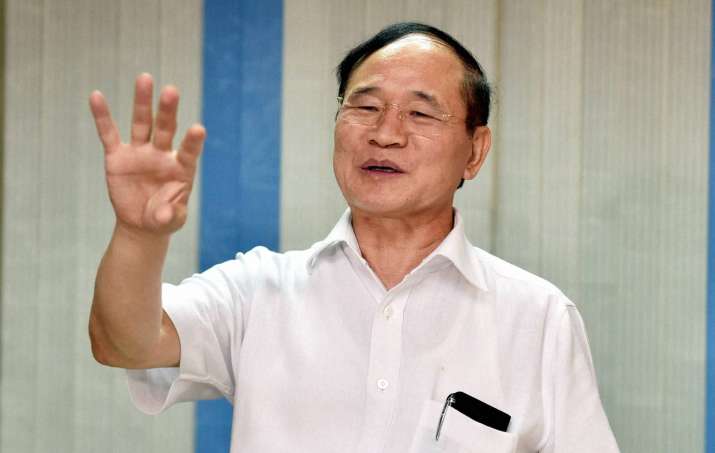 Itanagar/Guwahati: Having scored a legal victory after the Supreme Court restored the Nabam Tuki government in Arunachal Pradesh on Wednesday, the Congress appears to be on loose footing as far as proving majority on the floor of the house on Saturday, July 16.
Arunachal Pradesh Chief Minister Nabam Tuki, who has been asked to prove his majority in the state Assembly tomorrow, today met Governor Tathagata Roy today and sought postponement of the floor test by at least ten days. The request, however, was denied by the Governor. Nabam Tuki will now have to prove majority in the House tomorrow as per schedule.  
"I requested time for 10 days at least to prove my majority on the floor of the House.  Governor said he will consult with legal experts, take advice of the Advocate General and decide appropriately," Tuki said when asked about the Governor's response.
The request has been denied and while Tuki may have his own claims over seeking a postponement, there is a clear sense of unease in the Congress camp over their prospects of forming a government in the state.
On Saturday, the ousted BJP-backed government led by Kalikho Pul put up an impressive show of strength, parading 42 of the 58 MLAs in the House.  
As per BJP's rationale, all 42, including the 14 disqualified MLAs, are entitled to a vote during floor test. If that is the case, Pul is quite likely to win the numbers game.
There is another reason why the BJP appears confident of winning the numbers. On one hand is acting Governor Tathagat Roy's swift decision to summon the Assembly just a day after the apex court ordered the restoration of the Tuki government.
On the other is Speaker Nabam Rebia who has cited difficulties in convening a session of the Assembly at such a short notice.
"There is an established system (for convening session).  A letter has to come from the parliamentary affairs department and we will have to issue summons," he said.
This request, seen as an excuse to buy time at best, also signalled the party's failure so far to woo back the MLAs who had crossed over to the rival camp.
Meanwhile, sources said the BJP could move a motion of confidence against Rebia, whose decision to disqualify Congress MLAs who had rebelled against Tuki precipitated the constitutional crisis.
As per SC's verdict, the Speaker will be required to face the trust vote against himself on Saturday itself if Pul and BJP bring a motion against him.
(With agency inputs)