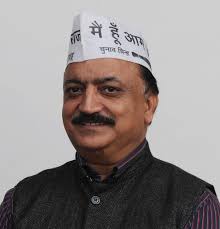 AAP MLA Rajesh Rishi was booked on Tuesday on charges of extortion and abetment to suicide, he has been named in a police complaint by a party's woman worker who allegedly attempted suicide.
The woman allegedly tried to kill herself on July 15 after leaving a note in which she alleged that she had been harassed by her colleague and the lawmaker.
According to Hindu, the party volunteer Sheela (name changed) has accused Sunita's husband of raping her and has filed a cross FIR, said Joint Commissioner of Police (South Western Range) Deependra Pathak.
Ms. Sunita's statement was recorded at the hospital where she was admitted after allegedly consuming phenyl.
In her complaint, Ms. Sunita said that the Ms. Sheela has been forcing her husband to vacate their house for the past few months. During this, they were even forced to leave their quarters at the DESU colony in Janakpuri and shift to another apartment but the harassment continued.
The woman alleged that the AAP activist threatened her with dire consequences if she refused to comply with her demands and boasted about the support of Mr. Rishi, the report says.
However, the AAP lawmaker has denied any links with the activist who allegedly attempted suicide over a dispute with a colleague.
Rishi, the legislator from Janakpuri in west Delhi, claims that he has been "unnecessarily dragged" into a fight between two women.
He said: "I do not know the woman who has levelled allegations against me. But, I know the other woman as a party worker. My name has been unnecessarily dragged into their dispute."
Anothet AAP lawmaker Kartar Singh Tanwar's residence and offices in South Delhi were raided by Income Tax officials today.
I-T officials reached Singh's residence at 8:30 am and also searched 11 offices of AAP MLA across Delhi.There are 20 companies of Kartar which is under IT scanner.
Kartar Singh Tanwar is AAP MLA from Delhi's Chhatarpur constituency.