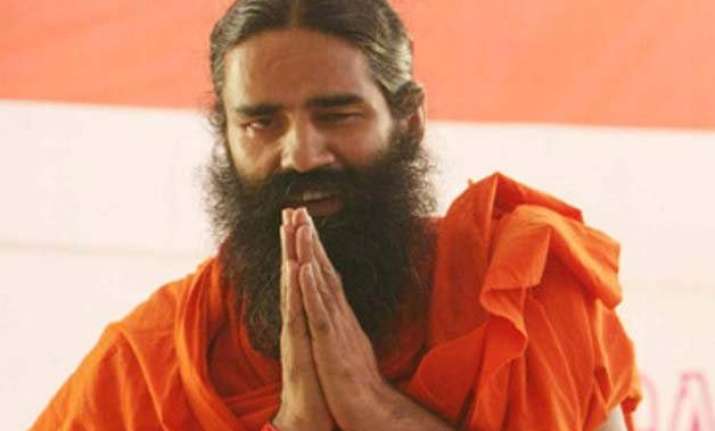 Vadodara: In the wake of the row kicked up by AIMIM leader Asaduddin Owaisi with the remark that he would not say 'Bharat Mata Ki Jai', yoga guru Ramdev on Wednesday suggested that the Centre should bring an amendment to make everyone chant the slogan.
"Even though it is not written in the Constitution that one should say 'Bharat Mata Ki Jai', there should be no problem in chanting it... Therefore, an amendment should be made in the law so that everyone says it," he said.
He also said that a country-wide ban on cow slaughter is necessary to prevent sectarian clashes and foster communal harmony.
"It is my humble appeal to Prime Minister Narendra Modi to enforce a total ban on cow slaughter across the country. I am hopeful to get a positive response from the PM," the yoga guru said. 
"I believe that a country-wide ban would bring harmony between various communities and reduce communal clashes," he added.
 
He claimed there was no cow slaughter in India till the 18th century and "even Mughal emperor Aurangzeb had imposed a total ban on this activity". "Uttar Pradesh, which is a highly-sensitive state, has imposed a ban on cow slaughter too," Ramdev said.
Ramdev also slammed Congress MP and former union minister Shashi Tharoor for comparing JNUSU president Kanhaiya Kumar, who is facing sedition charges, with freedom fighter Bhagat Singh.
"This is an insult to the martyrs who laid down their lives fighting for the freedom of our country," he said.
Kanhaiya was earlier this granted 6-month bail by a Delhi court on grounds that he will ensure that no anti-national activity is allowed at the JNU campus. 
With PTI Inputs