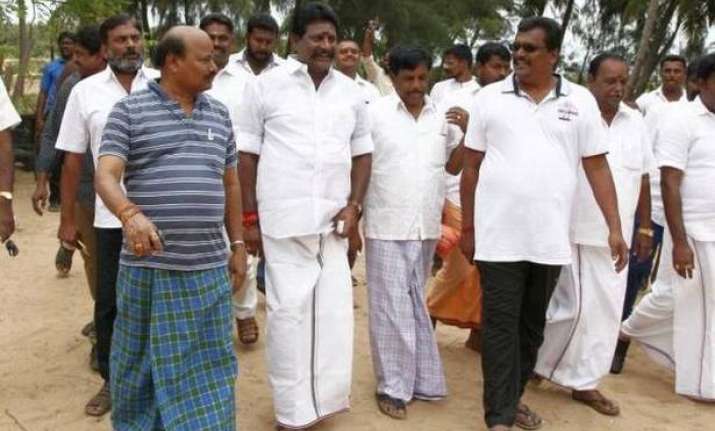 The ongoing crisis in the ruling AIADMK in Tamil Nadu went a step further on Thursday with state Assembly Speaker P Dhanapal issuing notice to 19 MLAs who had rebelled against Chief Minister E K Palaniswami asking them why they should not be disqualified. 
The 19 MLAs are part of the faction led by the now jailed AIADMK general secretary V K Sasikala and her nephew TTV Dhinakaran. 
Following the merger of the two warring factions of the AIADMK – one led by rebel O Panneerselvam and other by Chief Minister E Palaniswami – came together to rework the 'power-sharing deal', the 19 MLAs withdrew their support from the ruling party, throwing it into a state of crisis once again.
The notice comes soon after AIADMK's Chief Whip S. Rajendran wrote to Dhanapal to disqualify the MLAs who have rebelled against the Chief Minister following the merger of the party's two main factions led by Palaniswami and former Chief Minister O. Panneerselvam.
The Speaker has asked the 19 legislators to reply within a week.
Upset over the coming together of the two major factions of the AIADMK, the 19 legislators have submitted a memorandum to Governor C. Vidyasagar Rao withdrawing their support to the Chief Minister.
AIADMK's Chief Whip Rajendran said that by withdrawing support to the Chief Minister, the dissenting MLAs had attracted the provision of the anti-defection law.
The Dinakaran faction, whose MLAs are now holed up in Puducherry, reacted sharply. A spokesman for the group said this was aimed at preventing more legislators from joining them.
The move comes as the opposition parties have been demanding the Chief Minister to prove his majority in the assembly.
Another legislator wondered whether asking for change of Chief Minister is a worse crime than voting against the government during a confidence vote -- that was done by the Panneerselvam group.
The AIADMK had 134 members in the Assembly (excluding the Speaker) and this has fallen to 115 without the support of the Dinakaran faction.
The Tamil Nadu Assembly has 234 seats. One seat is vacant due to the death of AIADMK leader J. Jayalalithaa.
Of the 233 members, the DMK has 89 members, the Congress 8 and the IUML 1. Speaker P. Dhanapal has only a casting vote in a tie. The DMK, Congress and IUML are in an alliance.
Meanwhile a case has been filed in the Madras High Court by an advocate for a direction to Governor to ask the Chief Minister to prove his legislative majority.