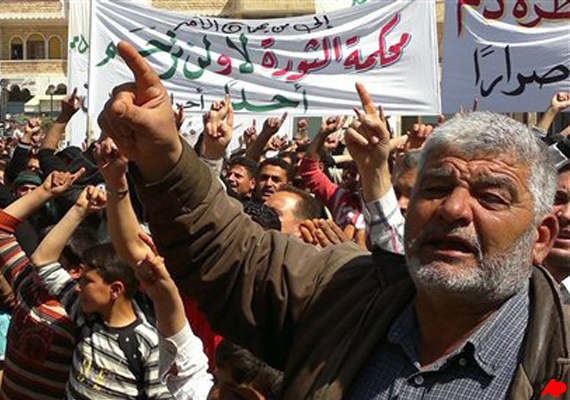 United Nations/Damascus, Mar 28: The United Nations on Tuesday increased its death toll for the Syria unrest to more than 9,000.
Robert Serry, a UN Middle East peace envoy, told the Security Council there were "credible" estimates that the number of dead was now more than 9,000.

Syrian President Bashar al-Assad on Tuesday toured the former rebel stronghold of Baba Amr in Homs, assuring residents that the battered neighbourhood would be rebuilt and that normal life would resume.

"Baba Amr will be much better than before," Assad told dozens of residents as he surveyed the destruction wrought on the neighbourhood in a month-long assault by regime forces.

The brief visit, which was aired on state television, marked a rare public appearance by the embattled head of state who is in the throes of an unprecedented revolt against his regime.

Assad, standing under a light drizzle, is seen during his tour discussing reconstruction efforts with local officials and saying that a plan needed to be drawn up to ensure residents can return home.

"We have to come up with a schedule in order to inform people when they can return to normal life," he is overheard saying while standing in front of a bombed-out building.

Many residents, some weeping, cheered him on and one woman hugged and kissed him.

Baba Amr was overrun by regime forces on March 1 following a month-long relentless assault to root out rebels.

Hundreds of people, many of them civilians, were killed in the fighting that left much of the neighbourhood in ruins, according to rights groups.

Assad on Tuesday appeared to justify the brutal crackdown on Baba Amr, telling residents that the state had no other choice but to use force to restore peace, the state news agency SANA reported.

"The state did not fail in its duty to protect its citizens," SANA quoted him as saying.

"The state gave those who had strayed from the right path every chance... to surrender their weapons but they rejected them and escalated their terrorism.

"So we had to act to bring back peace and security and to impose the law," he added.

Assad also hailed the "sacrifices" made by security forces in order to protect the country.

The central city of Homs has come to symbolise the one-year uprising against Assad's regime. Although Baba Amr is now under government control, clashes have been ongoing in other neighbourhoods of the city.

Monitors say nearly 10,000 people, mostly civilians, have been killed across Syria in the revolt that broke out in March last year.