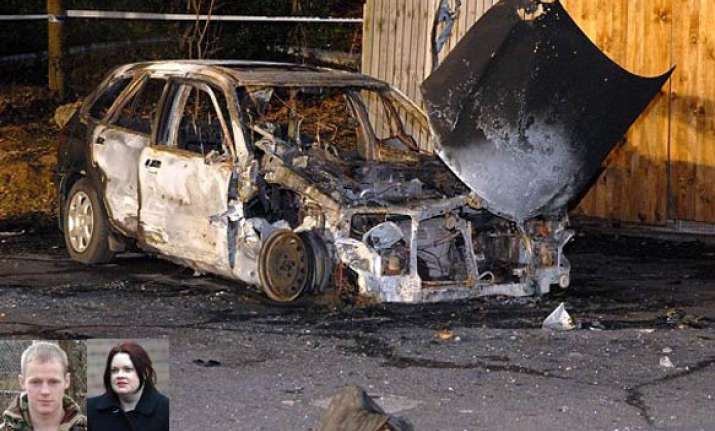 London, Feb 18: A soldier convicted of trying to kill his pregnant wife with a car bomb got life imprisonment sentence on Thursday from the Maidstone Ctown Court, The Daily Mail reported.
Nicholas Fabian, 33, planted a hand grenade under the footwell of his wife Victoria's car which detonated when she reversed out of their driveway with Charlie, her eight-year-old son from a previous relationship, at her side.
Judge Andrew Patience said Fabian must serve a minimum of 16 years behind bars for attempted murder.  He passed a 15-year concurrent sentence for the explosion charge.
Judge Patience said the offences were so serious that they filled the court and the general public with feelings of 'utter horror and revulsion'.
He added: 'It was obvious from the time you spent with your mistress that you were obsessed with her and that you wanted a future life with your mistress.
'Your wife was not to know, even when you were sat together on March 4, that the plans for your life together meant nothing to you and you were practising upon her the cruellest of deceptions.'
The judge said it was inevitable that, later in life, his son would find out that he tried to harm him when he was still unborn.
Mrs Fabian faces a life-time of physical pain and will not fully function again, the judge added.
Since his conviction, it has since been revealed that as well as cheating on his wife,  Fabian had previously worked as a £50-a-time male prostitute and even starred in a gay porn movie while still a soldier in Aldershot.
Known as 'Squaddie Nick', he catered to the sexual needs of older men with an Army uniform fetish.
One man, who had a relationship with Fabian after meeting him on a train, said: 'He came on to me strongly and we had sex in the train toilet.
'I dropped him off at his married Army quarters afterwards in my car but that night he was knocking on my door again. He was having affairs with a string of women and wanted gay sex too,' he told The Sun.
At the time he was living with a former partner, Louise Sands, the mother of two of his children.
When asked after the trial whether she was aware of her ex's secret double life, Miss Sands, 30, said: 'What? Nick? Gay? My head is fried.'
A court heard  how Fabian's attack on his wife was partly caused by a desire to 'clear the decks' and start a new life with his blonde lover Jackie Phillips.
He stole a hand grenade from a training exercise and rigged it to explode under the footwell as his wife Victoria reversed out of their driveway with Charlie, her eight-year-old son from a previous relationship, in the car.
Mrs Fabian, a nurse, was engulfed in flames and her legs studded with shrapnel. While she survived and later gave birth to a boy, Freddie, she has had a series of painful operations which may leave her crippled for life. Incredibly, Charlie, was unhurt.
Yesterday, a jury at Maidstone Crown Court took less than an hour to convict Fabian of attempted murder and causing an explosion with intent to endanger life.
The attack happened just over two weeks before Fabian was due to go to Afghanistan with his new regiment, the First Lancashire.
It appears that Army chiefs were unaware of his previous poor disciplinary record.
He had spent ten years in The Princess of Wales Royal Regiment and during his time with them he was investigated for 'misconduct issues' which saw him demoted from lance corporal to private.
He was also alleged to have stolen from his fellow soldiers.
After leaving the Army in 2004 he had found it difficult to adjust to  civilian life and claimed he was happy when he was called up to serve as he missed 'the thrill of being a soldier', the court heard.
On the day of the attack in March last year Mrs Fabian had planned to take Charlie and Harry, her four-year-old son with Fabian, to get a haircut.
Afterwards all four were due to have a family meal at a  Harvester restaurant.
Harry was in his father's car, while Charlie was to travel with his mother in a Mazda she had borrowed from her own mother.
As she drove off the grenade exploded. Fabian rushed to his wife's aid, ripping off his T-shirt to make a tourniquet for her leg.
Fabian was immediately the prime suspect, but he denied ever handling a grenade.
Forensic evidence linked him closely to the crime, however.
Green and yellow paint particles from a grenade were found in the garden shed at his home in Vigo, Kent, along with  fishing line used in the booby trap.
Miss Phillips, 33, told the court that Fabian had promised to leave his wife when he returned from Afghanistan.
But Fabian said that while he felt 'lust, infatuation and obsession' for the blonde, he was only interested in the sex.
He claimed after his nine-month tour of duty he planned to move to Catterick in Yorkshire to be away from temptation.
After the case, Detective Inspector Lee Whitehead of Kent Police said: 'Victoria Fabian can now move on with her life after having such physical and emotional trauma.
'She's got mixed emotions about the result of the trial. He's still the father of her children. It is difficult to understand how he could try to kill her when she was pregnant with his son.
'He is such a callous man, and all he wanted to do was clear the decks and move in with his girlfriend.'
'Alistair Dickson, from the Kent Crown Prosecution Service, said: 'Clearly not everyone who has affairs goes on to attempt to kill his wife in such a way.
'It has something to do with the fact that he was a fantasist and an attention-seeker but I don't think anyone will ever know the true motive in addition to the Jackie Phillips motive behind this offence.'